Happy Monday,
We had a wonderful weekend! We had Mr.B's 7th Birthday party yesterday, at a local bowling alley. We all had a blast and I must say, it was worth the money. All we had to do was show up; no cooking, no cleaning, no worrying about kids running rampant around the house. We bowled, we ate, had cake and opened gifts; all without a care in the world. Seeing the kids have so much fun and getting along so well, was really great.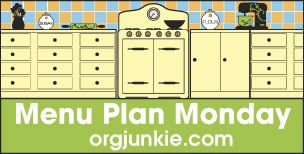 This week will be very quiet and low key. My nephew has gone up North for the week, to hang out with friends, for reading week; so it'll just be me and the kids most of the time. I don't even know Hubby's days off yet, so I'm just playing everything by ear. We have tons of leftovers from this weekend, so we'll be working on those for a few days. Here's the plan for the rest of the week
Lasagna Roll-ups with garlic bread
Pork Slouvaki Skewers, Greek couscous salad and pita chips
Black Bean Veggie Bake
Pork tenderloin with sweet potato pancakes and honey thyme pepper squash
Balsamic glazed Salmon (from last week), with Creamy Parmesan Orzo and Broccoli
Leftovers
Head on over to
OrgJunkie.com
, for more great meal plans!
~~~~~~~~~~~~~~~~~~~~~~~~~~~~~~~
Now for the winner of the Cheerios Heart Month Giveaway. The winner is lucky number
13!! Congrats to Noella L!!! I will be in contact with you to get your mailing info.
Thanks so much to all who took the time to enter!!!