One of our favourite desserts here, in the Jamieson household, is banana bread. If you go through this blog alone, you will find at least a dozen different banana bread recipes. Which is just a glimpse at how much we enjoy it. A new loaf never lasts longer than a few days. We recently tried the banana flavoured Bear Paws cookies and I really loved the hint of molasses with the sweet banana. Which gave me the desire to incorporate molasses into our banana loaf.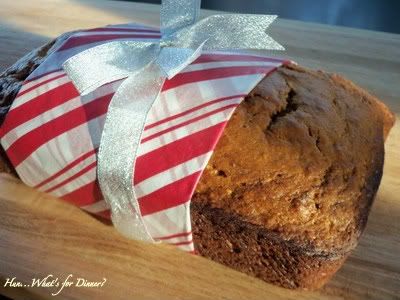 Not only did it lend a beautiful colour, to the loaf; it also added a nice almost smokey/savory undertone to it. The molasses is almost like an after taste, you don't really know it's there, until you are just about ready to swallow the moist banana bread. Everyone thought it was a great addition to the loaf and it also makes it difficult to notice that there is also some whole wheat flour, snuck into it. I personally would like a bit more molasses flavour, while Hubby said it was just right. A perfect after school snack and the perfect way to use up those ripe bananas, that may be hiding in your freezer.
Molasses Banana Loaf
printable version
1/2 C butter, melted
1/4 C sugar
1/3 C molasses
2 eggs
3 Tbs buttermilk
3 large ripe bananas, mashed
1 1/4 C flour
3/4 C whole wheat flour
1 tsp baking powder
1/2 tsp baking soda
1/4 tsp salt
Preheat oven to 350 degrees. Liberally grease a loaf pan and set aside.
In a medium sized mixing bowl, combine the melted butter with the sugar and stir well. Add in the molasses and eggs, stirring until all is well combined. Stir in the buttermilk and banana, mixing well.
In a separate mixing bowl, combine the flours, baking powder, baking soda and salt. Stir well, with a wire whisk, until combined. Add the dry ingredients to the wet and mix until just combined, being careful not to over mix.
Pour into prepared loaf pan and bake for 50-60 minutes; until toothpick inserted in the center comes out clean. Cool in pan 10 minutes, before removing loaf to a wired rack.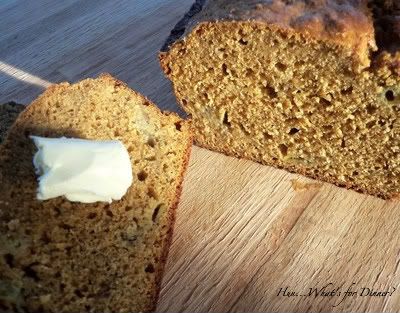 This post linked to
Bake with Bizzy
Full Plate Thursday
These Chicks Cooked
Sweet Indulgences Sunday
Church Supper