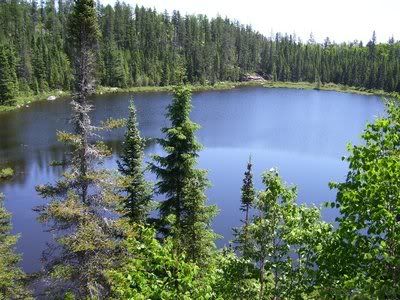 Photo Courtesy of my Mom
Growing up in Northern Ontario Canada, there are 4 things you need to love. Fishing, hunting, hockey and snow. I guess I'm not a true Northern girl, because I only love 2 of the four, LOL. Hunting and fishing have always been some of my favourite activities to do with my family. Growing up Dad spent any available time at the lake and as soon as hunting season opened, you could bet he was in the bush, wearing his orange vest and hat, looking for partridge and rabbit. Some of my favourite memories are of all us kids piling into the back of my Dad's pick up truck (it was legal back then), and going down a random dirt road, looking for the perfect fishing hole. Even though I'm not a big fan of snow, I really enjoy spending a mild day on a frozen lake, waiting for the fish to bite. It's something I'm hoping to introduce my kids to next winter.
Though I've been hunting several times, I've only ever shot one partridge. It was getting close to dusk and we were heading back to the truck, when we spotted a partridge sleeping in the middle on the dirt road. Dad asked me if I wanted to take a shot and I was so excited and nervous at the same time. I think I was about 14 at the time, so this was a big deal for us Northern gals. Partridge has always been on our table, since I can remember. It has a slight gamey taste, but it is really close to chicken. In fact, my kids think they're eating chicken, anytime we have partridge. If you get the opportunity to try some, I really hope you do.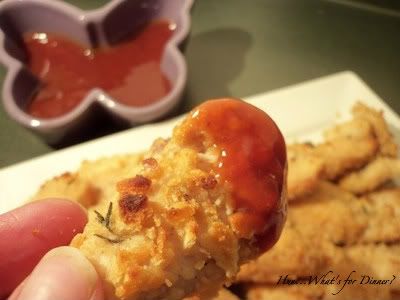 Growing up, my Mom would serve the partridge 3 ways. In a stew, baked with beans, or as partridge fingers. I remember the crispy fried tender pieces of meat, coated with corn flakes all to well. Since I have been trying to watch what I eat, I decided that rather than fry them, I would try and bake them. Thinking I had corn flakes in the pantry, I thawed my partridge without a second though. Dinner time rolled around and I got ready to make these suckers and wouldn't you know, the corn flakes I thought were in the pantry, were really frosted flakes!! So I had to improvise and I think I like my version better (no offense Mom). Using the bacon crackers added a nice smokey flavour to the meat and mellowed out the gamey taste. I also added some fresh thyme which added a fresh slightly pungent taste and it really complimented the smokiness of the breading. Everyone enjoyed these tremendously and you can bet it will go in our rotation, anytime Dad decides to share his catch with us!
Partridge Fingers
printable version
4 partridge breasts, cut into 1/2 inch wide tenders
2 Tbs olive oil, to coat the tenders
1/2 C bacon flavoured crackers, finely crushed
1/2 tsp fresh thyme, chopped
1/2 C BBQ sauce (optional)
3 Tbs honey (optional)
Preheat oven to 375 degrees.
Place cooling racks onto 2 rimmed baking sheets.
In a bowl, drizzle tenders with olive oil and toss to coat. Finely crush crackers in a zip top bag and add in thyme to combine. Place 1-2 tenders in the crumbs, and coat evenly with crumb mixture. Place coated tenders onto the baking racks, about 1 inch apart. Bake for approximately 20-25 minutes, turning the tenders half way through.
In a small bowl combine the BBQ sauce and honey. Serve with partridge fingers, for dipping (if desired).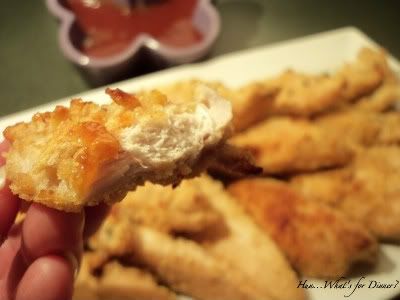 This post linked to
Things That Make you Say: Mmmmm
See ya in the Gumbo
Tasty Tuesday
Delicious Dishes