I've recently been introduced to
Pinterest
. At first I wasn't very enthusiastic about it. I didn't really get the concept of pinning, but then I realized that I could pin various recipes (either those I wanted to try, or the ones we love) and know exactly where to find them. And I must confess, it's pretty addictive. Some of the recipes I've found on there are amazing. Since I am watching what I eat, I have to confess that I am not pinning as often as I would like. Why torture myself looking at the ridiculously delicious dessert ideas, when I can't even make them and enjoy them, LOL. I did find this recipe on Pinterest and I was very curious about the use of Root Beer, while cooking the tenderloin. We LOVE root beer, so I knew for sure I'd be making this one.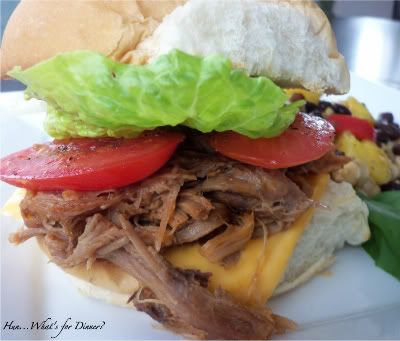 This recipe is so simple, it's crazy! All you do is throw your pork tenderloin in the crock pot, pour in some root beer and let it work it's magic. I love crock pot recipes where there isn't a lot of prep, and you can't get easier than this. I did decide to use some of the cooking liquid and reduce it, to impart more of that root beer flavour into our pork. Great idea. These were Da Bomb!!! The pork was so tender, slightly sweet and a bit savoury, thanks to the BBQ sauce. These were so good, Hubby requested I make them for Super Bowl Sunday.
Go Patriots!!!
Root Beer Pulled Pork
via Pinterest
printable version
1- 2 lb pork tenderloin
1- 12 oz can or bottle of Root Beer ( I used A&W)
1 bottle BBQ sauce (I used Guinness Bulls Eye)
fresh rolls or hamburger buns
tomato slices, cheese, lettuce (optional)
In a 6 qt crock pot, place the pork tenderloin and pour root beer over top. Cover and cook on low for 6-8 hrs. Remove pork from crock pot, pour 1 C of the cooking liquid into a small sauce pot and discard the remaining liquid. Over medium high heat, bring the cooking liquid to a boil. Reduce heat and simmer until it reduces by half. While cooking liquid is reducing, using two forks, shred/pull pork apart. Once cooking liquid has reduced, add the bottle of BBQ sauce and mix well. Pour over shredded pork and mix to coat evenly. Serve on rolls/buns with your choice of toppings.
This post linked to
Full Plate Thursday
These Chicks Cooked
Friday Favorites
Foodie Friday
Recipe Roundup~ Gooseberry Patch
Weekend Potluck