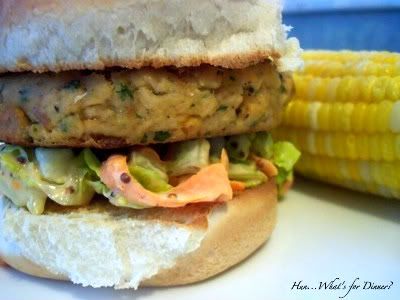 I have a confession to make. For the last few weeks, I haven't been eating too healthily or exercising. I'd like to blame it on many things going on with me, but that would be too easy. I want to take accountability for slacking and falling off the weight loss wagon. Now that Valentine's, day and Hubby and Mr.B's birthdays have past, I'm getting back on the wagon and returning to a healthier lifestyle. So, when the rest of the family decided on mammoth burgers with fries, I opted to make myself some Salmon Burgers. I remembered that Rachael Ray (
LOVE HER
) had a few recipes, so I did some online searching a found this one.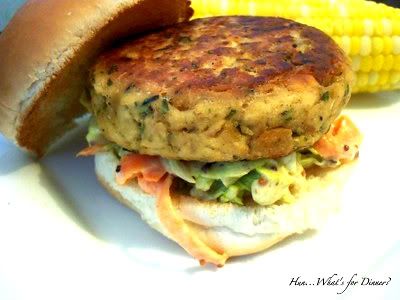 The original recipe is for a bun less burger, atop of a Caesar slaw. I still wanted the bun, so decided to put the slaw and burger onto a bun. This was one of the best salmon burgers I've had so far. I think it may be even better than Rachael Ray's
Salmon Cobb Burgers
. I loved the flavours she put in with the salmon and that Caesar slaw just brought these burgers to a whole new level. I cheated a bit and used some bottled low fat Caesar dressing, that I jazzed up by adding some whole grain Dijon mustard. Since I didn't have any radicchio
(what lettuce is that anyway?)
I used some shredded carrot, in it's place. I really liked the sweet carrot with the tangy dressing. I'll definitely be making this one often, and may even try the bun less version too.
Salmon Burgers with Caesar Slaw
Adapted from Rachael Ray- 30 Minute Meals
1 (14-ounce) can Alaskan salmon, drained and flaked
2 egg whites, lightly beaten
Handful parsley leaves, finely chopped
2 lemons, zested and juiced, divided
3 cloves garlic, finely chopped
3/4 cup Italian bread crumbs, 3 generous handfuls
Salt and pepper
4 anchovies, finely chopped, optional
2 teaspoons Dijon mustard
1 tablespoon Worcestershire sauce, eyeball it
2 tablespoons plus 1/4 cup extra-virgin olive oil, divided
Couple handfuls grated Parmigiano-Reggiano or Romano
2 hearts romaine lettuce, shredded
1 head radicchio, shredded
To flaked salmon, add egg whites, parsley, the zest and juice of 1 lemon, 2/3 of the total amount of chopped garlic, the bread crumbs and lots of black pepper and a little salt. Mix together and form 4 large patties or 8 mini patties.
To a salad bowl add the remaining zest and lemon juice, remaining garlic, chopped anchovies, Dijon mustard, and Worcestershire. Whisk in about 1/4 cup extra-virgin olive oil and cheese. Add lots of black pepper, no salt. Add shredded lettuces to the bowl and toss to coat evenly. Now, season the slaw with salt to taste, if necessary.
Preheat 2 tablespoons, of extra-virgin olive oil, 2 turns of the pan, in a nonstick skillet over medium to medium high heat. Cook salmon patties 2 to 3 minutes on each side for mini patties, 4 minutes on each side for large patties.
Serve salmon patties atop Caesar Slaw.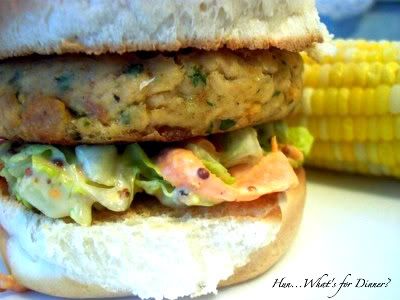 This post linked to
What Makes you Say Mmmm?
Hearth and Soul
See ya in the Gumbo
Delicious Dishes
Tasty Tuesday
Fit and Fabulous Fridays