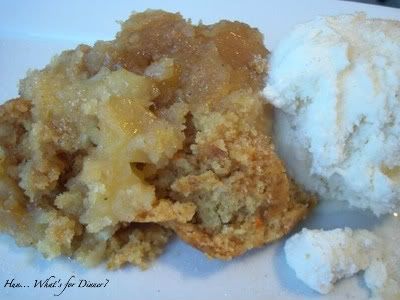 The other day, as I was cleaning out our cold store room/ pantry, I found a few things I had totally forgotten I had bought. I try to organize and clean out the pantry, at least once a month, but I hadn't taken the time in a while. Thankfully most of the stuff I found were canned goods, but I did find a 5 lb bag of apples, that weren't in the greatest shape. Since I already have a few jars of apple sauce, left over from this past fall, I decided to use the apples in a dessert. It was getting late and I had to start dinner, so I wanted something simple and fast. I quickly peeled and chopped the apples and sauteed them in some butter, brown sugar and spices. I had also found a yellow cake mix, so I decided to use that for our dessert as well. Dump cakes can't be easier. As the title indicates, you just dump everything in the pan and there you have it. Just one little stir, once the butter is melted and you're set to go.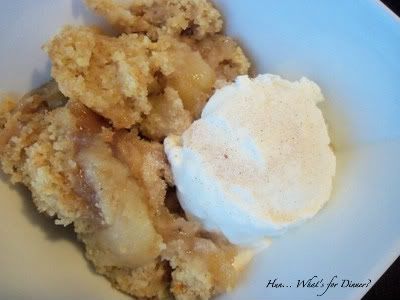 The smell of this baking was intoxicating. Even the kids commented on how great it smelled, LOL. I let it cool slightly, as we ate dinner and decided to serve it with some creamy vanilla ice cream. The slightly warm cake, melted the ice cream and just coated everything in sweet creaminess. The cake was very moist and infused with apple flavour and spices. The kids practically inhaled their servings and Hubby was VERY happy that there was some left over, the next evening. He was able to have a piece, after a long day at work. He normally isn't a big cake fan, but he raved about this one. I'm super excited to have found a super easy, but super sensational dessert recipe!!
Apple Dump Cake
printable version
3 C gala apples, peeled and chopped (about 8-10)
3 Tbs butter
1/4 C brown sugar
1 tsp vanilla
1/2 tsp cinnamon
1/4 tsp nutmeg
1/4 tsp cloves
juice of half a lemon
1 pkg Golden Yellow Cake mix
3/4 C ginger ale
1/4 C butter, cut into small cubes
vanilla ice cream
Preheat oven to 350 degrees.
In a large saute pan, melt butter over medium heat. Once the butter starts to bubble, add in the apples. Toss to coat with the butter and sprinkle with brown sugar, cinnamon, nutmeg and cloves. Stir well to combine and melt the sugar. Add in the vanilla and the juice of half a lemon; stir to combine. Reduce heat to medium low and cook, stirring occasionally, until apples are tender; about 5 minutes.
Spray a 9x13 inch baking pan with non stick spray. Place the cooked apples into the baking pan and sprinkle evenly with cake mix. Pour ginger ale over the cake mix and dot the entire thing with the butter. Bake for 20-30 minutes. *IMPORTANT* After the first five minutes take the pan out and stir the mixture so that the liquid gets evenly distributed throughout the cake. If not the top will burn.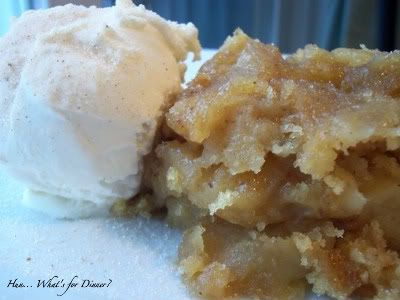 This post linked to
Sweets for a Saturday
Bake with Bizzy
Sweet Indulgences Sunday
Church Supper