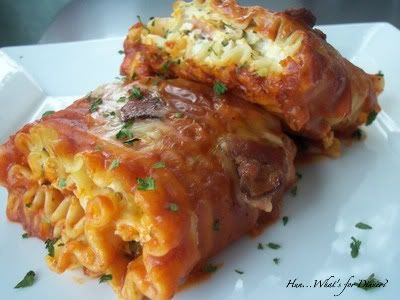 Do you love lasagna as much as I do? Those layers of pasta, sauce and cheese. How could you resists?? Even though I love lasagna, I don't really like serving it. Getting that first piece out of the pan is close to impossible and I am way too impatient to let it sit for 15 minutes, before cutting in a devouring it. So imagine a perfect little bundle of lasagna, that doesn't look like a heap of noodles when you place it. That's exactly what these roll ups are. You have the goodness of lasagna and it looks beautiful on the plate. Way more photogenic than regular lasagna.
You could pretty much make these anyway you like. Stuff them with your favourite cheese, veggies, meats. This time I went with broccoli and bacon. Two of the kids favourite foods. Now, I was taking a major gamble here. The kids do not like lasagna. They'll pick at the noodles and leave the rest behind. I though maybe if I changed up the filling a bit, I'd be able to get them to eat more of it. It worked for Mr.B, who wolfed his down in no time flat and requested seconds. Queenie was still leery about the whole ricotta cheese thing. Somehow she has turned into someone who doesn't like cheese
(which is almost unheard of in this house)
. I love that one of these is the perfect serving for me. Paired with a nice tossed salad and some garlic bread, this dinner is a winner!!!
Broccoli- Bacon Lasagna Roll Ups
printable version
10 lasagna noodles
1/2 lbs thick cut bacon, cooked and crumbled
1 small onion
2 C broccoli, finely chopped
2 cloves garlic, minced
16 oz low fat ricotta cheese
1 egg
1/4 C Parmesan cheese
1 C sharp Cheddar cheese
1/4 tsp basil
1/4 tsp oregano
salt and pepper
8 slices Provolone cheese (from deli)
For the Sauce:
1 can crushed tomatoes (35 oz)
¼ cup of olive oil
1 small onion, minced
4 cloves of garlic, minced
1/4 tsp dried basil
½ tsp of dried oregano
salt and pepper to season
a pinch of sugar
In a large pot of boiling salted water, cook noodles to al dente; about 5-7 minutes. Drain and lay flat on a clean cutting board.
Preheat oven to 350 degrees. In a sauce pan, heat 1/4 C olive oil; over medium heat. Add onion and garlic and cook until onion is translucent; about 2-3 minutes. Add in crushed tomatoes, basil, oregano, salt, pepper and sugar. Bring to a boil, reduce heat and simmer while assembling the roll ups.
In a skillet, heat 2 Tbs olive oil, over medium heat. Add onion, broccoli and garlic and cook until onion is translucent and broccoli is bright green in colour. Remove from heat and cool slightly.
In a bowl, combine ricotta, egg, Parmesan, Cheddar, basil, oregano a pinch of salt and pepper, cooled broccoli mixture and three quarters of the cooked bacon. Separate filling among the cooked lasagna noodles, spreading evenly and leaving a 1/4 inch edge at one of the narrow ends (this will help if the filling shifts while rolling). Starting at the opposite narrow end, roll up noodles and filling, jelly roll style. Repeat with all noodles.
Coat bottom of a 9x13 inch casserole dish with a few ladles of marinara sauce. Place lasagna rolls, seam side down, into the casserole dish. Top with remaining sauce, top with Provolone slices and sprinkle with remaining bacon. Cover with foil and bake for 50 minutes. Remove foil and bake for an additional 10 minutes, until cheese is bubbly.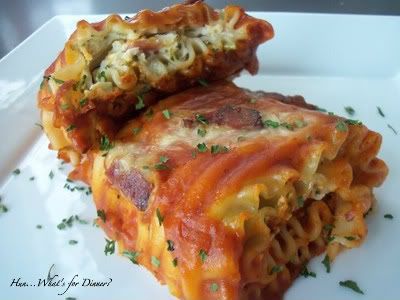 This post linked to
Full Plate Thursday
These Chicks Cooked
Friday Favorites
Foodie Friday