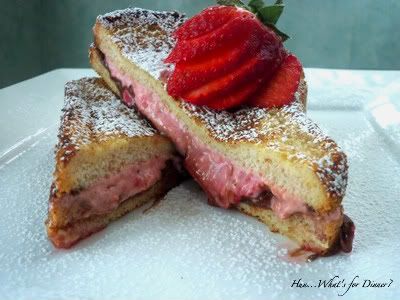 One thing I don't really like about winter in Canada
(other than the snow),
is that by the time the berries from our neighbours down South get here, they're about to go bad. I can't tell you how many times I've bought berries, only to come to use them, a few days later, only to find half of them moldy, or too ripe to serve to the kids. That was the case this past weekend. I bought strawberries and most of them were squishy and I knew the kids wouldn't eat them. So, decided to use them in a way, that no one would know they were about to turn.
I don't think I've made stuffed French Toast for the kids, since Queenie was born. She's not a big French Toast fan, so I figured why go through the hassle of whining, during breakfast. Since she was set on cereal, I decided to treat Mr.B and I to something special. I trimmed by berries, threw them on the food processor and quickly zapped them into a chunky sauce, with a bit of sugar. I made my own strawberry cream cheese, by mixing the two. Nobody can resist Nutella, so I slathered one side of the bread with that, just for good measure. These were beyond sinful!! Mr.B and I gobbled them up in no time flat. The tart cream cheese ensured that the filling wasn't too sweet, and everything was creamy, oozy and luscious. This would make an amazing breakfast in bed, for someone you love
(Mother's Day and Father's Day aren't too far away)
, or a great show stopping addition to any Sunday Brunch!!
(Note: I did let these sit and cool for 10 minutes, to get the results in the photo. The warm filling is much oozier, LOL)
Chocolate-Strawberry Stuffed French Toast
1/2 C strawberries
1 Tbs sugar
6 oz light cream cheese (3/4 of a brick), softened
Nutella
4 eggs
1/4 C milk
1 Tbs sugar
a pinch of salt
1/8 tsp cinnamon
12 slices whole wheat bread
cooking spray
powdered sugar
6 strawberries
In a food processor, blend strawberries and sugar, until berries are finely chopped. In a small bowl, mix the berries and cream cheese, until smooth and well combined. Set aside.
In a shallow dish ( I use a deep dish pie plate), whisk together the egg, sugar, salt and cinnamon, (this will help incorporate the cinnamon and it won't be floating on top of the custard). Whisk in milk, until thoroughly combined. Set aside.
Lay the 12 slices of bread out on a clean surface. Spread 6 of the slices with a generous amount of Nutella. Spread the remaining slices with the strawberry cream cheese mixture. Carefully place a Nutella slice of bread, onto the cream cheese slice; making sure the filling are inside the sandwiched bread. Dip the sandwiched bread, into the egg mixture on both sides and place in a non-stick skillet, preheated over medium low heat and coated with cooking spray. Cook for 3-5 minutes on the first side; until the bread is a nice golden colour. Carefully flip and cook for an additional 3-5 minutes. Let cool slightly, dust with powdered sugar and garnish with additional fresh berries.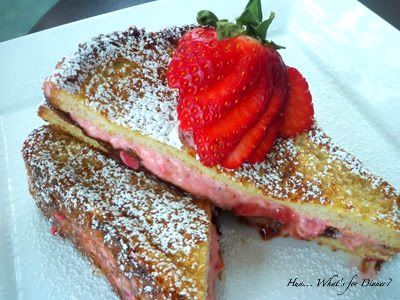 This post linked to
What Makes you Say: Mmmmm
See Ya in the Gumbo
Delicious Dishes
Tasty Tuesday