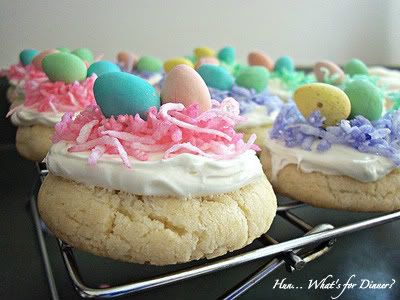 Do you have any special Easter traditions? Growing up, we didn't really have an Easter tradition. We would wake up on Easter Sunday, revel in the awesomeness left by the Easter Bunny and head to church. Once we returned, we were allowed to dig into our bounty and the rest of the day was spent quietly with the family. I can't really remember any Easter desserts my mom would make; maybe it's because I was going through the day on a sugar high daze, LOL. Now that I have kids of my own, I try to make the week before Easter fun. Whether it's making cute and fun
Easter Desserts
, or colouring eggs; I try to incorporate some family time into our pre celebration week.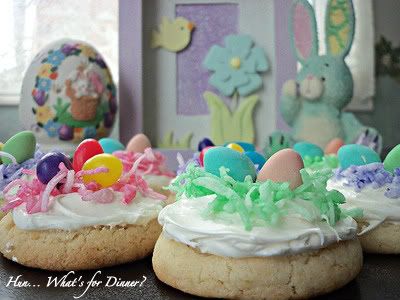 Life Made Delicious made my search for fun Easter treats a snap. Not only do they have an Easter top 10, they also have a great collection of fun and colourful desserts, perfect for the occasion. I decided to go with these cookies, since I had all the ingredients in my pantry. They were a snap to make and Queenie had a blast helping me roll the dough, for the cookies. While she samples all the colours of coconut, I frosted our cookies, after they had cooled. Insisting she needed to taste every colour of jelly bean and Mini Egg, we slowly assembled our nests and commented about how beautifully they had turned out. Not only are these pretty, they are pretty tasty too!
"Disclosure: I am part of the Life Made Delicious Blogger program and I receive special perks as part of my affiliation with this group. The opinions on this blog are my own."
Easter Nest Cookies
Adapted from Life Made Delicious
1 pouch Betty Crocker* Sugar Cookie Mix
1 tbsp (15 mL) all-purpose flour
1/3 cup (75 mL) butter or margarine, softened
1 egg
1 tub Betty Crocker* Whipped Fluffy White Frosting
1 cup (250 mL) flaked coconut
Food colour
Jelly beans
(I also used Mini Eggs)
Heat oven to 375ºF. In medium bowl, stir cookie mix, flour, butter and egg until dough forms.
Shape dough into 24 (2-inch) balls. Place 1 inch apart on ungreased cookie sheets.
Bake 7 to 9 minutes or until edges are light golden brown. Cool 1 minute; remove to cooling rack. Cool completely, about 15 minutes.
Frost cookies. Add coconut to a 1-quart resealable food-storage plastic bag. Add 2 to 3 drops food colour, shaking bag to blend colour. It may be necessary to add 1 to 2 teaspoons water to help disperse the colour evenly or additional food colour until desired colour is reached.
Sprinkle about 1 teaspoon coconut onto each cookie. Top with jelly beans.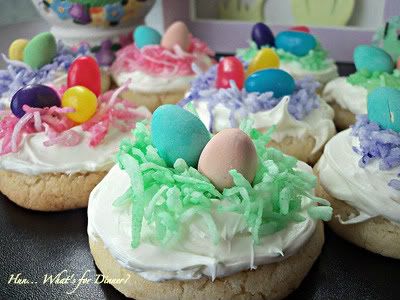 This post linked to
Sweets for a Saturday
Bake with Bizzy
Feed Your Soul
Church Supper
Gallery of Favorites
Bunny Hop Blog Party
Saturday Dishes