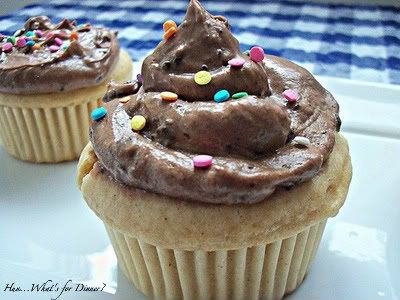 This past Thursday was National Peanut Butter Lover's Day. If there's one thing we are in this house, it's peanut butter lovers. The kids eat it on just about everything; sandwiches, pancakes, waffles, apple slices. One of my favourite snacks is peanut butter with apple slices and I've recently started spreading some peanut butter on graham crackers, or rice cakes; to curb that mid day hunger. And who could resist an amazing peanut butter and chocolate dessert??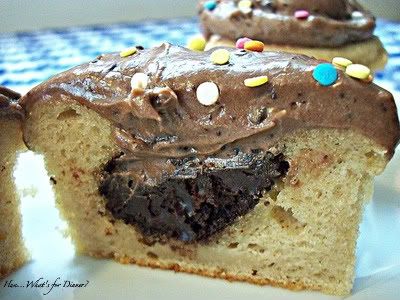 Finding inspiration for my Peanut Butter Lover's Day treat was quite easy. Since it was Hubby's day off, I wanted to make something he would love. His favourite sweet treat is Reese Peanut Butter Cups, so I wanted to pair peanut butter with chocolate. A chocolate ganache filled cupcake seemed perfect, and would let us enjoy the best of both worlds. These cupcakes are super easy, all you need to remember is not to put too much ganache filling into the cupcakes. I made that mistake and it overwhelmed the peanut butter taste. The kids loved these, as they do any cupcake and Hubby loved the combination of flavours.
Ganache Filled Peanut Butter Cupcakes
printable version
1 box white cake mix
2/3 C peanut butter
2 eggs
1 1/2- 2 C buttermilk
For Ganache:
4 oz dark chocolate, chopped
1/4 C cream
2 Tbs powdered sugar
For Frosting:
1/4 C butter
any remaining ganache filling
3 C powdered sugar
2-3 Tbs buttermilk
Confetti decorations
For Ganache:
Place dark chocolate, cream and 2 Tbs of powdered sugar into a microwave safe bowl. Cook for 1 minute, stirring after 30 seconds. Whisk until smooth. Refrigerate for 30 minutes, until set.
For Cupcakes:
Preheat oven to 350 degrees. Line muffin tin with paper liners. In a large bowl mix together the peanut butter and egg. Add in the cake mix and 1 1/2C buttermilk. Whisk until smooth, adding more buttermilk if needed. Fill each liner 2/3 full. Place a tsp of ganache filling on top of the batter, of each cupcake. Bake for 15-18 minutes, until cupcakes spring back, when lightly touched. Remove from cupcake tins and cool completely.
For Frosting:
In a bowl cream together the butter and any remaining ganache filling. Add in powdered sugar, 1 C at a time, beating until smooth after each addition. Add in buttermilk and beat for 3 minutes. Frost cooled cupcakes and sprinkle with confetti decorations.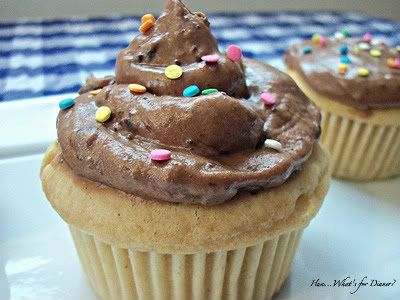 This post linked to
Baking with Bizzy
Sweets for a Saturday
Church Supper
Sweet Indulgences Sunday