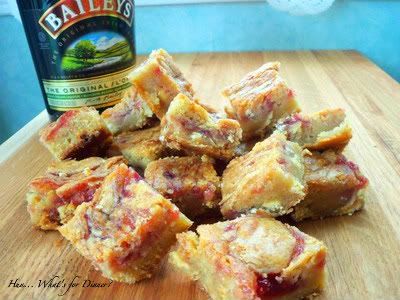 St. Patrick's Day, is just around the corner and though I'm not a huge fan of Corned Beef
(unless someone else makes it, LOL)
, I do enjoy a good Colcannon, fried cabbage and Irish Soda Bread. When I think of an Irish dessert, nothing really comes to mind. I mean Ireland isn't really re known for it's desserts, is it? So, when I sat down to think of a super yummy St. Patrick's Day inspired dessert, my thoughts went straight to Irish Cream. My girlfriend Janice, makes the BEST Irish Cream Cheesecake and I wasn't going to even try to out do her, in that category. Having recently read about a drink that included Irish Cream and raspberry liqueur, I decided to go with blondies. What I like about blondies is that the recipe is really just a base, to goodness. You can add a multitude of different ingredients and come away with something different and phenomenal, every time. So, I decided to flavour the blondie batter with Irish Cream and swirl some homemade raspberry jelly throughout.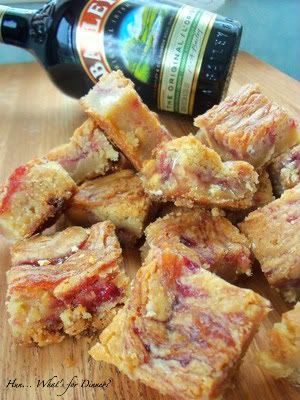 As these were baking, I wasn't sure if it would be a success. It seemed to be taking a long time to set in the center and I was worried that the edges would be too brown. It worked out beautifully and though these are very chewy (almost creamy), they are sensational. You get the slight hint of Irish Cream and the soft tartness of the raspberry. These are a little rich, so one piece is enough. Paired with a cold glass of milk, these are the perfect end to a wonderful Irish meal!
Irish Cream Blondies with Raspberry Swirl
printable version
8 Tbs butter, melted
3/4 C brown sugar
1 egg
1 tsp vanilla
1/4 C Irish Cream
1 C + 3 Tbs flour
1/2 C white chocolate chips
1/3 C raspberry jelly
Preheat oven to 350 degrees. Generously grease an 8x8 inch baking pan; set aside.
In a medium bowl, mix the sugar and butter, until well combines. Add in egg, vanilla and Irish Cream, and beat until light and fluffy. Add flour and mix until just combined. Fold in white chocolate and pour batter into prepared pan.
Heat raspberry jelly in the microwave for 30 seconds; stir until smooth. Drizzle over top of the blondie batter and using a butter knife, swirl the jelly into the batter. Bake for 30-45 minutes, until a tooth pick inserted comes out with a few moist crumbs. Cool completely before cutting into bars.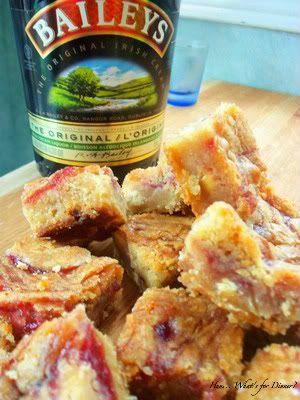 This post linked to
Bake with Bizzy
Full Plate Thursday
Hearth and Soul
Gallery of Favorites
Foodie Friday
Weekly Round Up