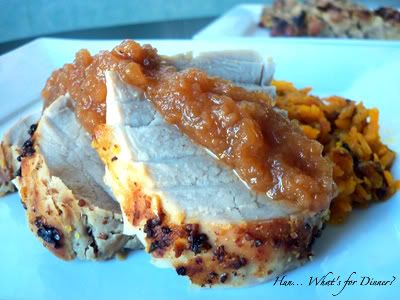 Don't you love when you can find local products, that cost way less than in the stores? This is the case with the huge bottle of maple syrup I purchased in Montreal. While at one of the popular markets, we ventured outside, only to step into Maple- palooza. Everywhere you looked, there was maple syrup, maple butter, maple taffy. I was so excited to relive some of my fondest childhood memories, by purchasing some maple taffy, straight off of fresh snow. The hot thickened maple syrup is drizzled onto fresh snow and it sets up into a taffy. With the help of a popsicle stick, you scoop and twirl the syrup, to enjoy as a snack. Once I had finished my delectably sinful snack, we perused the large display of maple syrups. We quickly discovered that this local syrup cost 50% less, than what we find in stores, in our area. I quickly grabbed a BIG bottle, to bring home.
There are many things I think go well with the maple flavour. One of those would be pork. So, I decided to take my tenderloin and marinate it in a combination of maple syrup and whole grain Dijon mustard. The sweet and savory flavour pairs so nicely with pork. Marinating made the pork so tender and infused it with wonderful flavour. While I decided to oven roast the tenderloin, this would also be perfect on the grill. The boys gobbled this right up and we all enjoyed it best served with my homemade
apple sauce
.
Maple Dijon Pork Tenderloin
printable version
2- 1lb pork tenderloins
3/4 C maple syrup
juice of half a lime
2 Tbs whole grain Dijon mustard
1 Tbs fresh thyme, chopped
1/2 tsp sea salt
1/4 tsp fresh ground pepper
To a small bowl add the maple syrup, lime juice, Dijon, thyme, salt and pepper. Mix well to combine and pour into a large zip top bag. Place tenderloins in zip top bag and seal, squeezing out as much air as possible. Smush the bag, to coat with marinade. Refrigerate for at least 6 to 8 hrs.
Preheat oven to 400 degrees. Place tenderloins in a 9x13 baking dish, along with the marinade. roast in oven for 30-45 minutes (internal temperature should reach 165 degrees), basting with marinade, as it cooks. Remove from baking dish, cover and let rest for 15 minutes, before slicing.
This post linked to
These Chicks Cooked
Bake with Bizzy
Full Plate Thursday
What's Cookin Thursday
Fit and Fabulous Friday
Foodie Friday
Friday Favorites
Church Supper