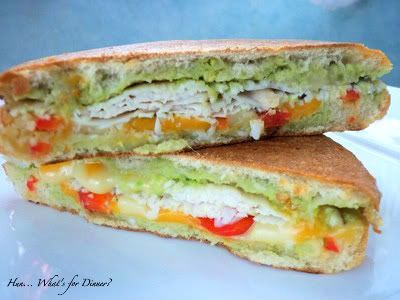 If you're like me, you like to switch it up at lunch time. For about a week, I was following a 1500 calorie meal plan. After that week of only having 3 different options for lunch, I decided I'd rather eat healthy, than be miserable. Though I have favourite breakfast, lunch and dinner options, I like to mix it up a bit. After all, variety is the spice of life; right? I don't eat bread very often, but there are some days, when a sandwich just hits the spot. Some of my favourite sandwiches are usually toasted in the oven, so that the ooey cheese can melt. So, paninis, to me are the perfect sandwich. They're like a cross between grilled cheese and sandwiches; so who on earth wouldn't love them?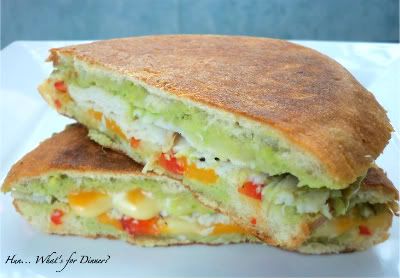 We are not proud owners of a panini press. Thankfully watching Rachael Ray for many years, has paid off. I've seen her make paninis with 2 skillets, adding the second skillet to the top and adding weight, to lightly press the sandwich down. This method works really well, so you don't need fancy gadgets to make a great lunch. I went with flavours that I love and I thought would compliment each other well. Lean turkey, creamy avocado, sweet red pepper and roasted garlic and a bit of tart Provolone make these sandwiches out of this world.
So, what to you do, to keep lunch exciting?
Turkey- Red Pepper and Provolone Panini
2 Ciabatta rolls, each sliced in half horizontally
8 thin slices of deli style turkey breast
1 avocado, cut in half; pit and skin removed
1/4 C mayonnaise
4 cloves of roasted garlic
1 tsp balsamic vinegar
1 Tbs butter, softened
1/2 of a red pepper, thinly sliced
4 slices Provolone cheese, from the deli counter
fresh cracked pepper
In a small bowl, mash the avocado with the mayonnaise until well combined; set aside. In a second small bowl, mash the roasted garlic with the butter and balsamic vinegar until well combined; set aside.
Spread 2 pieces of bread with the avocado mayonnaise. Spread remaining 2 pieces of bread with roast garlic butter. On the bottom halves of the bread pieces, lay one slice of cheese. Top with 4 slices of turkey, red pepper strips and a second slice of cheese. Top with top pieces of bread.
Preheat a medium skillet over medium low heat. Add a drizzle of olive oil and place in 1 sandwich. Place a smaller skillet on top of the sandwich and place a weight into the top skillet (a large 30 oz can of tomatoes works well); gently press down. Cook sandwich for 3-5 minutes, until the bread crisps up and starts to brown slightly. Carefully flip the sandwich over, cooking for another 3-5 minutes, until cheese is melted, bread is crisp and slightly browned. Repeat with second sandwich.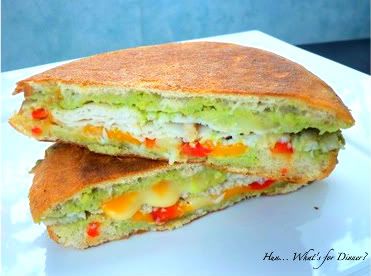 This post linked to
Hearth and Soul
These Chicks Cooked
Full Plate Thursday
Fit and Fabulous Fridays
Friday Favorites
Foodie Friday