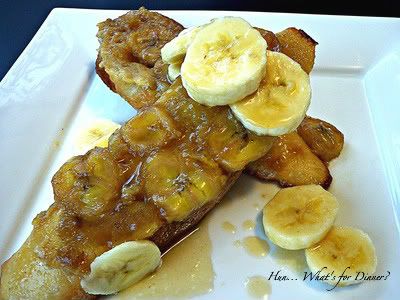 Sometimes, I want a grown up breakfast. One that includes flavours and sophistication. Not just cereal, toast or chocolate chip pancakes. While all of those breakfasts are great, making them day after day, weekend after weekend, sometimes get boring. So, this morning I decided to make something more grown up and more adventurous. I wanted something sinful to accompany my french toast. I love syrup on mine, so I thought why not incorporate bananas in there somehow? Then it hit me..... Bananas Foster!!
A coconut flavoured, rum infused syrup coated tender ripe banana slices. This was the perfect bed in which to nestle the custard soaked slices of baguette. My baguette was a bit stale, so I had been wondering what to do with it. This was the perfect solution. I made my custard last night and let the stale slices of baguette soak in it over night. This morning, all I had to do was make the syrup, pour it over sliced bananas which were in a baking dish and top everything with the custard soaked bread. This smelled so good while it was baking!! Even the kids said it smelled rather tasty, LOL. While Queenie wasn't fond of the french toast (she has texture issues), Mr.B gobbled his right up. My nephew, who had worked all night, was more than happy to help eat the remainder. The syrup was sweet, with a slight coconut flavour. The bananas softened and slightly caramelized, went perfectly with the tender slices of baguette; PERFECT!

Bananas Foster French Toast Bake
printable version
8 slices of baguette, cut 1 inch thick (preferably stale)
4 eggs
1/4 tsp cinnamon
2 Tbs sugar
pinch of salt
1/2 tsp vanilla
1/4 C milk
1/2 C brown sugar
2 oz coconut flavoured rum
1 Tbs butter
2-3 bananas
In a large baking dish, place the slices of baguette. In a bowl combine the eggs, sugar, salt and cinnamon. Whisk until well combined and frothy. Add milk and vanilla and whisk again, to combine. Pour the custard over the slices of bread, turning them to coat. Cover dish with plastic wrap and refrigerate overnight, or for at least 1 hr.
Preheat oven to 350 degrees.
In a small skillet add the brown sugar, rum and butter. Heat over medium low heat, until sugar is melted and all is combined; about 5 minutes. Slice bananas and place them in the bottom of a 13x9 inch baking dish. Pour warm syrup over top and top everything with the custard soaked bread slices.
With the rack in the upper third section of the oven, bake french toast for 45 minutes to 1 hr; until custard had cooked through and tops of the bread are slightly browned. Cool for 10-15 minutes before serving.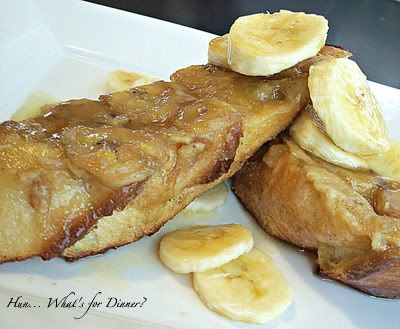 This post linked to
Bake with Bizzy
Friday Favorites
Feed Your Soul
Weekly Round-up
Sweets for a Saturday
Weekend Potluck