Good morning everyone. Today we are doing something new. I've decided that I wanted to share all the wonderful Foodies, that I've become friends with recently, with you. I would like to introduce you to Chantal, from
Let's Eat
. Chantal is wonderfully creative and has many talents. Her love for food and life, is what drew me to her and Chantal has graciously agreed to share a bit about herself, and her fabulous recipe for Strawberry Cream Filled Carrot Cake Cupcakes with White Chocolate Cream Cheese Frosting.
~~~~~~~~~~~~~~~~~~~~~~~~~~~~~
photo courtesy of Chantal @ Let's Eat
Hello everyone, I am Chantal from Let's Eat.
I grew up in Montreal and I'm the youngest of 5 children. I went to French Immersion school and I sometimes struggled with reading English. So I use to read the Montreal Gazette every Saturday – - important things like the Ann Landers column, cartoons and the restaurant reviews. I had and early fascination for cooking, way before Food Network hit the scene. My Nan – Sarah Violet Taylor – was a big inspiration in my love of cooking. She had 9 kids and there are 36 grand kids. So time spent with her was very special indeed! We would bake and share our creations with cups of strong sweet tea in Royal Dalton cups ; ) Every Sunday, my aunts would visit my Nan and we would share baking, tea and lots of conversation! My British father, Bernard, was also a huge inspiration. He was in the Navy for 12 years and traveled the world. He certainly encouraged me to try all types of food and showed me how to plate to impress a crowd! Sadly he passed away 14 years ago, but his spirit lives on and his influence in my cooking realm. My mom, Brenda, continues to support my passion for cooking and when I was a teenager I would frequently create and make big dinners for our family celebrations. To this day, my mom is only to happy to hand over her kitchen to me when I visit her in the Okanagan in the summer –she calls me her "private chef!"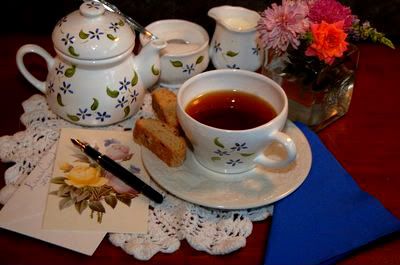 photo courtesy of Chantal @ Let's Eat
In the early 90's I moved to North Coast of BC and have lived here ever since and am I very blessed to have a loving and sweet husband Phil and our amazing teenaged sons Ben and Eric as well as two big dogs and 4 cats! My sons love to cook and bake and have since they were very young. For over 8 years now, I have operated a licensed family daycare and enjoy working with young children. I continue to coach youth soccer and enjoyed being a scouting leader in Scouts Canada for many years and teaching Sunday school at my home church, First Presbyterian. I also enjoy freelance writing via columns, articles and short stories. I balance work life, family/personal life and Let's Eat – sometimes I fully admit it's not easy!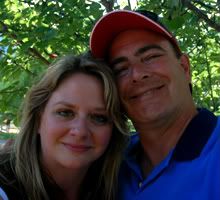 photo courtesy of Chantal @ Let's Eat
Let's Eat began in April of 2007 in column form via the local newspaper The Daily News. I also created Kids Matter, which was featured on the same page as Let's Eat. Let's Eat is now published weekly in the Alaska Highway News in Fort St John and in 2010 my husband and I created the website version of Let's Eat. Influenced by my Nan and my mom and aunts, I created a virtual kitchen table for people to come and visit and enjoy great food and conversation via their home computer, Ipad or Iphone. In June of this year, the local TV network
in my area
will air Let's Eat cooking videos so another chapter and challenge will begin.
I met Cindy at Hun, What's for Dinner, last year, via Real Women of Philadelphia (RWOP) online community. There were seemingly the same group of us always meeting on the threads, chatting, joking around, encouraging – like girls going to the park or mall to hang out! The beauty was we were from all across Canada and crazy in love with creating RECIPES! I am truly amazed at the talent of the food blogging community, and Cindy, and her very popular food blog. We recently formed the Canadian Cookies and having that support and friendship online via a food blogging and so much more is totally amazing! I don't know what I would do without them to be very honest. Those women are like family to me and hence why I
refer to them as the
Canadian Cookies
Sistas!
Thanks so much Cindy for this guest feature on Hun, What's for Dinner. I really appreciate and feel very blessed to be part of it. Cheers to all of you and happy cooking ~ Chantal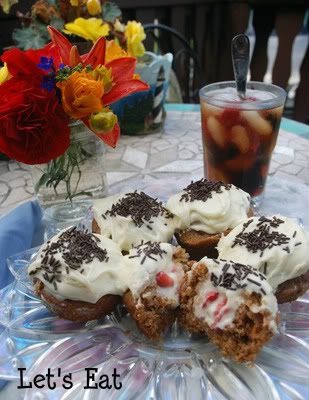 Strawberry Cream Filled Carrot Cake Cupcakes with White Chocolate Cream Cheese Frosting
Courtesy of Chantal @ Let's Eat
I love watching Food Network and TLC and I'm quite fascinated by popular shows such as Cupcake Wars, Cake Boss and Ace of Cakes so naturally I had to create my own special cupcake in my small Let's Eat kitchen. I really enjoy having a nice slice of carrot cake so I thought how can I make that work in a cupcake and make it really unique. I had fun experimenting with some success and some failures all in the quest to find another level of cupcake "yum." In my experiments, I added chocolate chips and fresh pineapple to the cake batter along with the other classic ingredients such as walnuts and aromatic spices. I wanted to pick up the volume a bit with the cream cheese frosting so I added melted white chocolate. I was also on a quest to create a really nice cream filling that is inserted into the cupcake and created a dreamy filling that has summer fresh strawberries and fresh pineapple. Enjoy and be prepared to lick your fingers!
Preheat oven to 350
3 cups of all purpose white flour
2 tsp of baking soda
1/2 tsp salt
2 tsp of cinnamon
1/2 tsp of nutmeg
1/2 tsp of Allspice
1 1/2 cups of vegetable oil
1 cup of sugar
2 cups of grated carrots (organic and with peel on)
1 cup of fresh pineapple finely chopped
2 tsp vanilla
1 cup of walnut pieces
1/2 cup of dark chocolate chips
3 eggs
In a large bowl add the dry ingredients; flour, baking soda, salt and spices. Mix well with your hand. In another large bowl, add some of the wet ingredients; the vegetable oil, sugar and mix well. Add half of the dry ingredients and mix well. Add the grated carrots, fresh pineapple and vanilla- mix well with a spoon. Add the walnut pieces and dark chocolate and blend. Add the rest of the dry ingredients and blend. Add one egg at a time and stir with each addition. Pour into well greased muffin tins – about 2/3 full. Bake for 23 minutes. This recipe makes 18 cupcakes.
While those bake, let's make our frosting.

White Chocolate Cream Cheese Frosting
1 cup of Philadelphia Cream Cheese Original brick (slightly softened)
1/2 cup of butter (slightly melted)
1 1/2 cups of icing sugar
5 squares of melted white chocolate *(such as Baker's – place squares in bowl, splash of water and microwave for 50 seconds.
In a large bowl or working with an electric mixer, add all the ingredients and mix for several minutes (on high for electric mixer or hand mixer) for 2 minutes. Creating a nice and fluffy frosting. Place the frosting in a plastic container with a lid and place in the freezer to chill.
Filling
1/4 cup of Philadelphia Cream Cheese (softened)
1/4 cup of butter (softened)
1 1/4 cup of icing sugar
2/3 cups of fresh whipping cream
1/3 cup finely chopped fresh strawberry
1/4 cup of finely chopped fresh pineapple
Working with a medium sized bowl add; cream cheese, butter and icing sugar - blend well. Add the fresh whipping cream and blend for 2 to 3 minutes with a hand mixer or electric mixer. Add fresh strawberries and pineapple and gently fold into filling. Place the filling in a plastic container with a lid and place in the freezer to chill.
When the cupcakes are baked (to ensure they are baked – insert a knife into the middle of one of the cupcakes and make sure the knife blade comes out clean or a toothpick – totally baked) Let the cupcakes cool for about 10 minutes and remove from pans. Working with one at a time, take an apple core remover and insert the middle of the cupcake. Twist the core and remove gently and pull up removing some of the middle. Do not go right to the bottom as the filling will come out! Repeat with other cupcakes. Working with a small plastic baggie, cut the tip and insert 1/2 cup of the chilled filling. Insert filling in each cupcake. Remove frosting from freezer and frost the cupcakes. Can add sprinkles. Keep cupcakes in the fridge until ready to serve. I enjoy having this cupcake with a large glass of ice tea; lots of ice, cut up key limes, raspberries, blackberries and peaches – a refreshing summer drink.
So until next time: Let's Eat! Check out our website at
www.letseatwithchantal.ca
for other delicious summer recipes, photos, short stories and more!