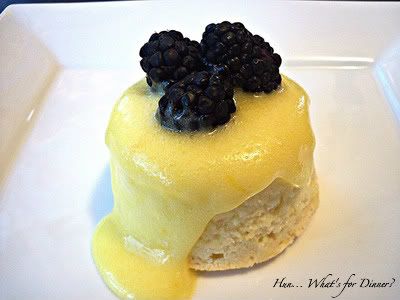 Sometimes being a food blogger is counter productive. You need to be on top of food trends, creative and you need to post holiday themed recipes, before the actual holiday. Sometimes I think, why am I doing this to myself? Do I really need to make a certain recipe twice? Once before the holiday and then again on the actual day? The answer often is yes. Most of the time the pre holiday recipe is the test recipe. To see if it will be a success, worthy of being served at our holiday table. Which is the case with these amazing little cakes. I wanted little lemon cakes for our Easter Brunch and I had an idea (in my head) of what I wanted them to taste and look like, but whether I could pull it off, I wasn't sure. Now I can't take full credit for this one, I did get help from
Tyler Florence
. The funny part is, I overcooked his recipe, which resulted in me having to quickly adapt and to turn this into something just as amazing. So, I guess you can say that this is my collaboration with Tyler, LOL.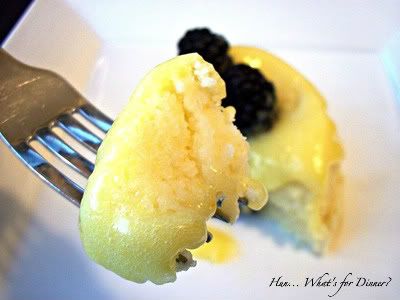 As I said, I based these on one of Tyler's recipes I found on line, for baked lime pudding cakes. I followed the directions to a T, but I think since my oven runs hot, I over baked them. They were done in 3/4 of the time suggested and they looked nothing like the photo that accompanied the original recipe. Oh, and I also decided to go with lemon, instead of lime. Since these baked all the way, I decided they would pair nicely with a lemon sauce. Boy was I right. These are light, tart and phenomenal!! Hubby absolutely loves anything lemon, so he was crazy about these. He said he really loved that they were tart and you could tell they were lemon. He often says many lemon dessert recipes are too sugary and that the lemon taste gets lost under the sweetness. Not these babies, they will make you pucker, but leave you wanting just another bite.
Individual Lemon Cakes
printable version
1 tablespoon unsalted butter
2/3 cup superfine sugar
2 eggs, separated
1/2 cup milk
1 tablespoon lemon zest
3 tablespoons lemon juice
1/4 cup all-purpose flour
1/4 teaspoon salt
Black berries for garnish
Lemon Sauce:
1/2 C sugar
1 1/2 fresh lemons, juiced
1/2 tsp lemon zest
2 eggs
1 Tbs salted butter
Pre-heat oven to 325 degrees F.
Butter and lightly sugar 4 ramekins (approximately 6-ounce size). In a bowl, combine yolks, milk, lemon juice and lemon zest; let sit 3 minutes, then beat until well combined. Slowly add sifted flour, sugar and salt until just combined. Beat egg whites with a whisk attachment until you get stiff peaks then combine the two mixtures by gently folding them together, a little at a time. Divide evenly amongst ramekins then bake in a water bath – set ramekins in a roasting tray and fill with water halfway up the sides of the ramekins.
Bake in the oven for 45- 60 minutes until the top springs back when gently pressed and the cakes have a nice golden color. Allow to cool slightly, then carefully invert onto a plate.
For Lemon Sauce:
In a small sauce pot combine sugar, lemon juice, zest and eggs. Over medium heat, whisking constantly, cook until thickened, about 5 minutes. Once thick, remove from heat and stir in butter; until completely melted. Spoon sauce over warm cakes and top with a few fresh blackberries.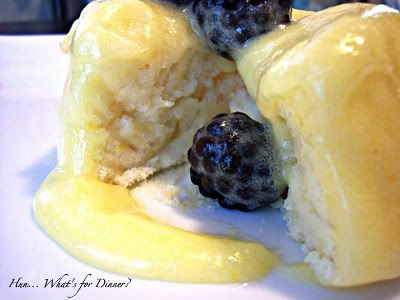 This post linked to
What's Cooking Thursday
Full Plate Thursday
Bake with Bizzy
These Chicks Cooked
Bunny Hop Blog Party
Saturday Dishes
Church Supper