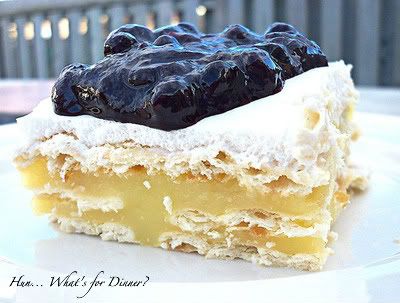 I use to think that crackers where only for soup, or to go with cheese, but in the last few years I've been seeing crackers popping up in dessert recipes. What about those Saltine Toffee Cookies?? Those are dangerous, which is probably why I've never made them, LOL. About a month or so ago, I saw a photo of this recipe on a Facebook group I belong to-
Mom's Recipe Collection
. My friend's Mom started the group and just like Jeanine (from
The Baking Beauties
), her Mom is awesome in the kitchen. The photo that was posted stopped me dead in my tracks and practically had me drooling. Anytime I would check in with the group, the photo would taunt me with it's mouth watering deliciousness. Since my BFF was coming for dinner, last week, I decided to go ahead and make this dessert.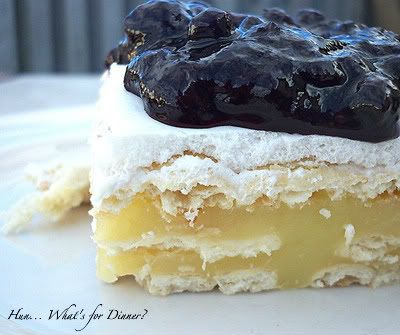 This cracker cake is very easy to put together. The original recipe calls for any flavour of pudding you'd like. I had some lemon pie filling in the cupboard, so I decided to use that. I also used Dream Whip and think I should have made 2 packets, instead of one (I like lots of whipped cream). I serve the dessert topped with some blueberry rhubarb preserves, I had made last summer. It was just the right amount of sweetness, to compliment the tart lemon filling. This cake was PHENOMENAL!! The crackers softened, but weren't mushy and their texture was a great contrast to the lemon filling and whipped topping. The kids gobbled this up in no time flat, my BFF asked me to write the recipe down for her and she was more than happy to bring any remaining dessert home with her. This was such a hit, I think it will become a staple dessert, when we have dinner guests.
Cracker cake
Adapted from Susan Harder- Mom's Recipe Collection
1 sm box unsalted crackers
1 102 g. box instant pudding, prepared as directed (flavour of your choice)
1 litre cool whip
pie filling of your choice

line a 13x9 pan with a thin layer of cool whip. Layer in the following order.

1. crackers

chill over night-do not cover. Serve with a spoonful of pie filling on top. This cake is nice and light, and looks like phyllo pastry
This post linked to
Tasty Tuesday
Delicious Dishes
What Makes you say Mmmm?
See Ya in the Gumbo
Gooseberry Patch Recipe Round-up