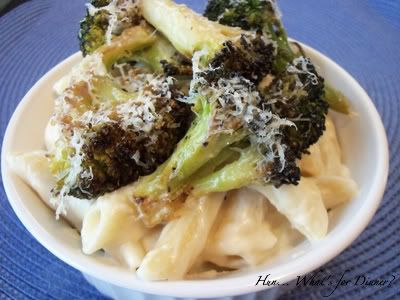 I saw Rachael Ray make this on her show last month. I was really intrigued with parsnips inside the cheese sauce and I loved the roast cauliflower on top. I've loved roast cauliflower since I was little. My Mom would often pan roast it until it was golden and sweet. Sprinkled with a touch of salt, it was cauliflower nirvana. So, I knew I would enjoy the topping. Then in a moment of exhaustion, I decided to change the cauliflower to broccoli, in hopes of avoiding any dinner time stress. While it was still good, I think I would have preferred the cauliflower.
This pasta sauce is creamy and gooey. You could literally see the cheese stringing as you poured the sauce into the pasta. I did find the sauce to be a little bland though; but that may be because I didn't add that much salt and nutmeg. Regardless, the kids really liked it and were non the wiser that extra nutrition was hiding there, within the cheese sauce. This is a pretty easy, yet delicious recipe, if seasoned properly. I'll be keeping this in my arsenal of weeknight dinners and next time I'll roast up some cauliflower along with some broccoli.
Mac 'n' Cheese with Parsnips and Roasted Cauliflower
Adapted from Rachael Ray
4 cloves garlic, halved
About 1/3 cup EVOO – Extra Virgin Olive Oil
1 head cauliflower or 4C broccoli, cut into florets
Juice of 1/2 lemon
2 tablespoons fresh thyme
Salt and pepper
1/2 cup grated Parmigiano-Reggiano cheese
2 large parsnips, peeled and chopped
3 tablespoons butter
3 tablespoons flour
1 cup chicken stock
1 3/4 cups whole milk
Freshly grated nutmeg, to taste
1 1/2 cups shredded Fontina or Gruyère cheese
1 pound ziti or Italian-style, straight-cut macaroni
Yields: 4-6
Heat oven to 400°F.
In a small pot, combine garlic and oil, heat over low flame and gently cook until garlic is light golden in color and very fragrant, about 10-15 minutes. Remove garlic cloves and reserve.
Pile cauliflower, or broccoli, on baking sheet and dress with lemon juice, about 3-4 tablespoons of the garlic-infused oil, thyme, salt and pepper. Toss to combine and spread florets out in a single layer. Roast to brown at edges and tender, 20-25 minutes. Cover with Parmigiano-Reggiano and roast 5 minutes more. Turn oven off.
Meanwhile, boil parsnips in salted water to tender, 10-15 minutes. Purée in a food processor with the garlic cloves.
Bring a large pot of water to a boil for the pasta.
In a saucepot, combine remaining garlic oil and butter over medium heat. When butter foams, whisk in flour, cook 1 minute; add stock and milk, and thicken. Season with salt, pepper and nutmeg; combine sauce with parsnip purée and melt in cheese.
Cook pasta to al dente, drain pasta and toss with sauce. Arrange in a serving dish topped with crispy cauliflower florets on top.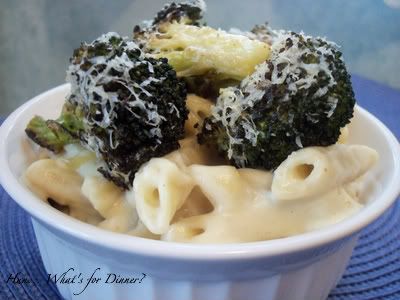 This post linked to
Full Plate Thursday
These Chicks Cooked
Bake with Bizzy
What's Cooking Thursday
Fit and Fabulous Fridays