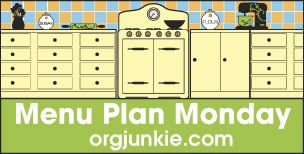 Happy Monday!!
I hope everyone is enjoying their extra long Easter weekend! We had a quiet Easter here, as usual. Hubby had to work all weekend, so we made due by having Easter Brunch, so he could celebrate with us. For some reason this year I was rather disorganized, forgetting key ingredients for my planned dishes for Brunch. So, I made a few swaps and it turned out delicious. The kids
(and I)
both had way too much chocolate and candy, and enjoyed an hour at the park, before the rain started up. The rest of the day was spent watching movies, snuggling and nibbling on more chocolate, LOL.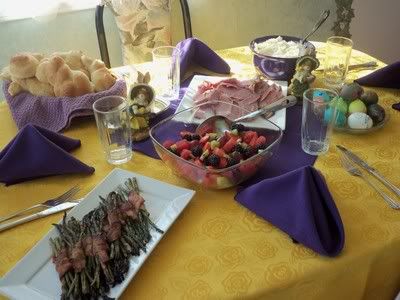 So, now is time to get back on track and try to get our eating habits on a healthier route. This week's menu will be simple, and full of dishes that we love. My girlfriend is due for dinner on Wed, so I will treat her to one of our favourites- Shrimp Creole, from
Skinny Taste
. The rest of the week will be busy with school and appointments, so I will try and keep the meals simple, healthy and delicious.
Creamy broccoli and cauliflower soup, with grilled cheese
Grilled Peameal Bacon sandwiches, with potato salad
Baked Sweet Salmon with stir fried veggies
Ham and Cheese Crepes with a tossed salad
Rosemary Chicken and Potatoes, roast cauliflower and carrots
Leftovers
Check out
OrgJunkie.com
, for more great meal plans!!