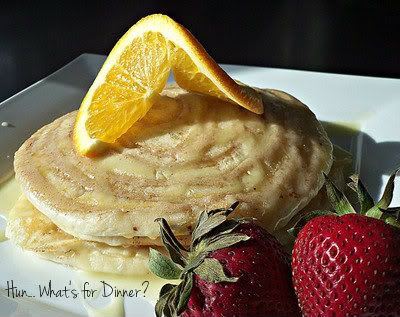 Does your Mom like a special breakfast on Mother's Day? I have to be honest and say that Hubby works most Mother's Days, so I don't get to spend the day with my Mom, as often as I'd like. If I did, I would give her the day off, taking over the responsibilities in the kitchen. For brunch I would probably whip up some bacon, eggs and certainly pancakes; and these would be perfect for such a special day. I love orange cinnamon rolls, so I thought why not try to make them into pancakes. Now I did see this idea on
Pinterest
and though I wish I could say I came up with this idea, I did not. I'm not sure if my recipe is the same as the original I saw, but I think these were pretty awesome.
Tender fluffy pancakes with a ribbon of sweet cinnamon sugar butter, topped with a tart cirtus glaze. Need I say more?? The kids really loved the flavours in these and even Hubby said they were good (he's not much of a pancake man). Garnished with fresh fruit these pancakes would be a great addition to any Mother's Day Brunch.
Orange Cinnamon Roll Pancakes
printable version
1 egg
2 Tbs vegetable oil
2 Tbs sugar
1/4 tsp salt
1 1/2 C flour
3 tsp baking powder
a few drops of orange extract
3/4- 1C milk
1/3 C butter, softened
2 Tbs sugar
1/2 tsp cinnamon
1/2 C powdered sugar
1 tsp orange zest
1-2 Tbs orange juice
Preheat a griddle pan over medium low heat.
In a bowl, combine the egg, 2 Tbs sugar, salt and oil. Add in 3/4 C milk and orange extract; stir well. Add flour and baking powder, mixing until well combined; adding more milk if needed (do not over stir, it will cause tough pancakes).
In a small bowl, combine the butter, 2 Tbs sugar and cinnamon. Place into a zip top bag. Snip a small hole, in one end of the bag and set aside.
Spray griddle pan with cooking spray and ladle batter onto preheated griddle. Squeeze the butter mixture onto pancake, while going in a circular motion. When bubbles start forming on the pancake and edges are set, flip to cook the other side; about 2-3 minutes. Cook for an additional 1-2 minutes on second side. Plate pancakes, swirl side up; adding more of the butter mixture into the swirl, if desired.
In a third bowl, mix the powdered sugar with the lemon zest and 1 Tbs orange juice; stir until smooth, adding more orange juice to create a thin glaze. Drizzle glaze over cooked pancakes.
This post linked to
Weekend Potluck
Feed Your Soul
Friday Favorites
Sweets for a Saturday