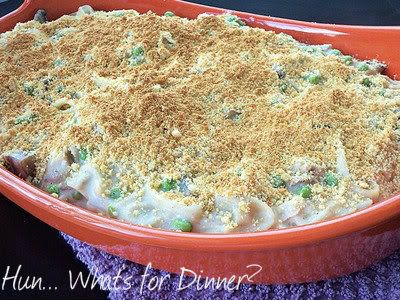 Did you know that I love watching food related TV?? When the kids allow it, you can bet that the TV is tuned to the Food Network, The Rachael Ray show, or my new favourite food show,
The Chew
. What first drew me to even think of watching yet another day time food show, was Clinton Kelley. I just LOVE him and have since his days on '
What not to Wear
'. Though I knew he was great with fashion, I did not know he was also great in the kitchen. He, along with Chef Michael Simon, Chef Mario Batali, Chef Carla Hall (from Top Chef) and Daphne Oz (gee... I wonder who she's related to); entertain us everyday with awesome recipes, funny banter and great nutritional info and tips. They often have various celebs making guest appearance and last month, The Pioneer Woman herself, Ree Drummond, was on to make this awesome chicken tetrazzini. I immediately loved the recipe and I've yet to be disappointed by a PW recipe, so I knew it would be tasty.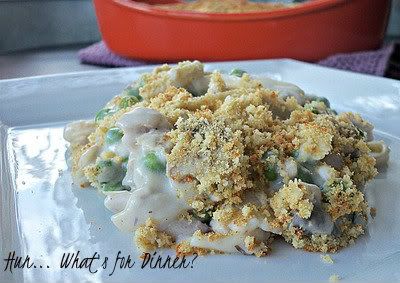 I quickly searched online for the recipe and was beyond the moon, when I had all the ingredients. Those recipes are the best in my book, because I don't have to go out and search for some foreign ingredient, that I may only use once, LOL. I happily made this for dinner and of course being me, I did make a few substitutions. First I decided to use linguine pasta, rather than penne. I didn't have enough penne on hand, and I never use linguine often enough. I omitted the olives, because I didn't have any black olives and Mr.B isn't very fond of olives anyway. I also subbed the panko bread crumbs for whole wheat vegetable crackers, that I mixed with a touch of melted butter and Parmesan cheese. This added a great layer of flavour to the top of the pasta. This was creamy, smokey, cheese and super comforting. Another winner from the Pioneer Woman!!
Ree Drummond's Chicken Tetrazzini
courtesy of The Chew on ABC
1-1.5 Lb penne pasta
4 tablespoons butter
4 cloves garlic (minced)
1 Lb white mushrooms (quartered)
1/2 teaspoon salt
1 cup white wine
1/3 cup flour
1 block 8 oz cream cheese
1 whole chicken shredded or diced (reserve cooking liquid)
1 cup finely chopped black olives
1-1.5 cups frozen green peas
4 slices bacon (fried and cut into bits)
1 cup grated Monterey Jack cheese
1 cup grated Parmesan cheese
Salt & pepper (to taste)
Extra broth for thinning
1 cup Panko bread crumbs
Separate and boil one whole chicken in a large pot of water. Once chicken is cooked, about 45 minutes, remove the chicken from the water. Once cool, remove the skin and reserve. Take meat off bones and shred. Replace bones and skin in cooking liquid and boil for an additional 20-30 minutes. Reserve cooking stock to be used later in the recipe.
Cook pasta until not quite done - al dente according to package instructions (it will finish cooking in the oven.) Drain, rinse, and set aside.
In a large pot, heat butter over medium-high heat. Add garlic and saute for a couple of minutes. Add mushrooms and salt, then saute for a couple more minutes. Pour in the wine and allow it to cook with the mushrooms for several minutes, or until the liquid reduces by half. Sprinkle in flour, then stir the mushrooms around for another minute. Pour in the broth and stir, cooking for another few minutes until the roux thickens.
ingredients 1 block 8 oz cream cheese
Reduce heat to medium low. Cut cream cheese into pieces and add it to the pot. Stir it to melt (don't be concerned if the cream cheese remains in little bits for a while; it'll melt eventually!) Add the Chicken, the olives, the peas, the bacon, and the cheeses. Stir to combine, adding salt and pepper as needed.
Add the cooked pasta and stir it to combine. Splash in more broth as needed; you want the mixture to have a little extra moisture since it will cook off in the oven. If it's a little soupy, that's fine! Add up to 2 more cups of liquid if you think it needs it.
Pour the mixture into a large baking dish and sprinkle the top with Panko bread crumbs. Bake at 350 degrees F for 20 minutes, or until the casserole is bubbly and the crumbs are golden brown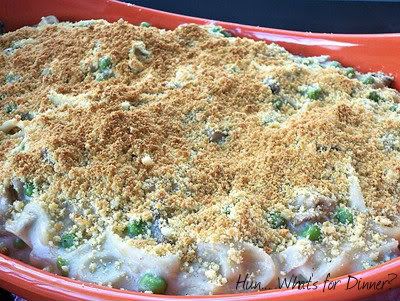 This post linked to
Hearth and Soul
Delicious Dishes
What Makes you say Mmmm?
See you in the Gumbo
Tasty Tuesday