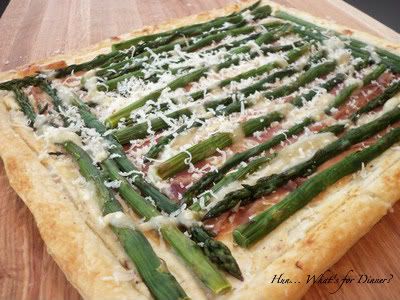 Happy Monday everyone!
With less than a week before Easter, I along with the rest of the
Canadian Cookies
have decided to bring you a week full of recipes, perfect for that Easter Brunch or dinner. So, make sure to stay with us all week, for great recipes, and decorating/entertaining tips. To start the week off, I decided to share a beautiful appetizer with you. When I think Spring and Easter, I think of asparagus. I love that asparagus is so versatile, and tastes spectacular just about anyway it's prepared. This recipe is inspired by an appetizer I had, while Hubby and I were away in Montreal. They had paired asparagus and prosciutto with puffed pastry, for something sensational. I decided to make a tart, so we could see the beautiful ingredients being used.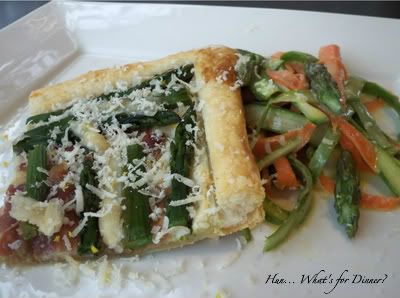 The combination of buttery pastry paired with the salty prosciutto and fresh asparagus screams Spring.To add another depth of flavor, I decided make some roast garlic cream cheese, as the glue that holds everything together. A slight zest of lemon on top, brings an amazing brightness to the whole thing. Not only is this stunning to look at, it is also full of amazing flavor. You guests are sure to be impressed!
Prosciutto and Asparagus Tart
printable version
1 sheet puffed pastry, thawed
3 oz light cream cheese, softened
4 cloves of roast garlic, mashed to a paste
1/4 C Parmesan cheese
5 cracks of very coarse ground pepper
6 slices prosciutto
1 lb asparagus, trimmed
1 lemon, slightly zested and cut in half
lemon zest
Parmesan cheese
butter
Bring water to boil in a large skillet. Add asparagus, juice of half a lemon (as long as the squeezed rind) and a pinch of salt. Simmer for 3 minutes, until asparagus turns bright green and becomes slightly tender. Remove asparagus to a large bowl of ice water. Pat dry on a kitchen towel and set aside.
Preheat oven to 375 degrees. Gently unroll puff pastry, stretching slightly to make a uniform rectangle. Using a sharp paring knife, lightly score the puff pastry 1/4 inch from the edge, on all sides.
In a bowl combine the cream cheese with the roasted garlic, Parmesan cheese and coarse ground pepper. Spread a thin layer of cream cheese filling in center of the scored rectangle; leaving the edges bare. Top the cream cheese with slices of prosciutto. Top with asparagus spears, placing ends in alternating directions; making sure to mostly cover the prosciutto. Top with additional Parmesan. Spread butter over exposed edges of dough and bake for 20-25 minutes; until edges are golden brown. Sprinkle with a touch of lemon zest and additional Parmesan before serving.
Makes 12 slices.
Cindy's notes:
I served mine with a salad made of fresh asparagus and carrot ribbons, dressed with a creamy, slightly sweet lemon vinaigrette. Feel free to serve it with any light, citrus dressed salad, you prefer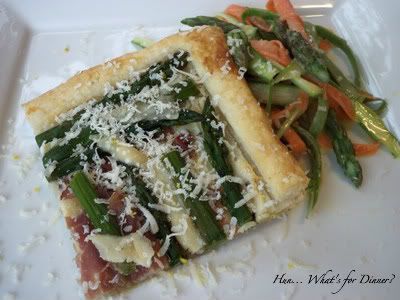 This post linked to
What Makes you say Mmmmm?
See ya in the Gumbo
Delicious Dishes
Tasty Tuesday
Hearth and Soul