Lately, it seems anywhere you look, there are recipes for over the top desserts. Many of them, often combine two desserts together and you can bet there is some sort of candy or chocolate bar involved. We had some Reese Peanut Butter Cups leftover from Easter, so rather than have them staring me in the face, I thought I'd bake with them. That way I could share what ever I made, with our neighbours. We've come up with an awesome agreement. I bake
(one of my favourite things to do)
and they eat
(so that I don't gain tons of weight, eating all the yummy treats)
. I wanted to make something sure to make people weak in the knees just thinking about it. These are what I came up with.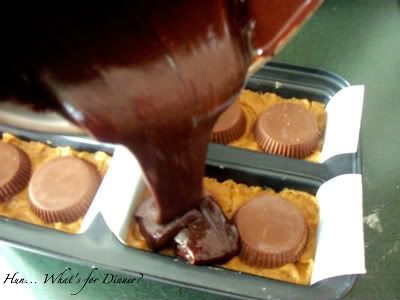 Reese Peanut Butter Cups are sandwiched between a tender peanut butter cookie layer and a chewy chocolate brownie layer.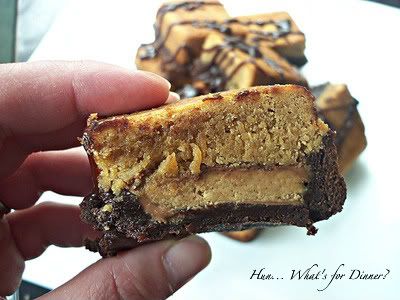 These are amazing!! So amazing , that I must admit to just having one for breakfast. It was followed by a banana and a cuppa tea, so it wasn't all that bad, LOL.
Now I just have to get the rest out of the house!!
You get the chewy layers of cookie and brownie and then all of a sudden you are hit with the sweet and salty combo of the peanut butter cups. I made mine in mini loaf pans, and cut them in half. One half is more than enough and of course you need to have these with a big glass of milk!!!
Reese Peanut Butter Cookie Brownies
printable version
1 C peanut butter
1/2 C brown sugar
1 egg
1 tsp baking soda
1/4 C flour
1/4 C butter
6 tbs cocoa powder
1/2 C sugar
1/2 tsp vanilla
1/4 tsp salt
1/3 C flour
2 eggs
10 Reese Peanut Butter Cups
Preheat oven to 350 degrees. Line 5 mini loaf pans with parchment paper.
In a bowl cream together the peanut butter and brown sugar. Add in the egg and mix until well combined. in a second bowl, mix the flour and baking powder. Add to the peanut butter mixture and mix until well combined. Press peanut butter dough evenly, into all 5 loaf pans. Top with 2 Reese Peanut Butter Cups each.
In a small sauce pot, over low heat, melt the butter. Remove from heat, add in the cocoa powder and mix to combine well. Stir in the sugar, vanilla and eggs, quickly mixing to combine. Mix in flour and salt; until well combined. Pour batter over peanut butter cups and smooth with a spatula. Repeat with all loaf pans.
Bake for 20-25 minutes, until brownie batter springs back lightly, when touched.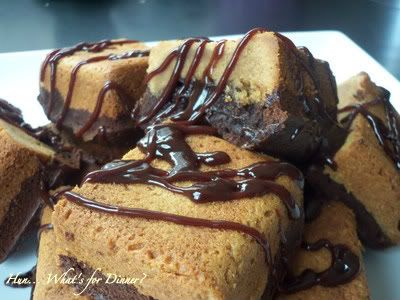 This post linked to
Bake with Bizzy
Weekend Potluck
Friday Favorites
Feed your Soul
Sweets for a Saturday
Weekly Round-up
Church Supper