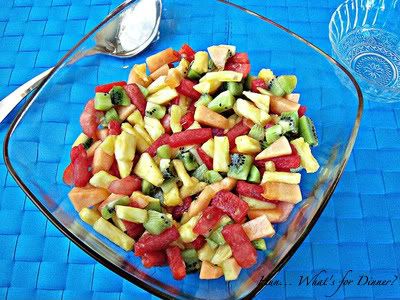 When I have a ton of fruit in the house, one of my favourite things to do with them, is make a fruit salad. I love how the colours all blend together, to make a rainbow of colour and flavour. I also find fruit salad is a great way to get my kids to eat a few servings of fruit, in one meal. Whether I dress is simply, or try to get a bit more creative, nothing beats a nice bowl of fruit salad with breakfast, or brunch. This particular recipe, I made for our Easter Brunch. I think a fruit salad is a perfect show stopping side, for a get together. I don't know many people who can resist a beautiful and colourful bowl of fruit salad.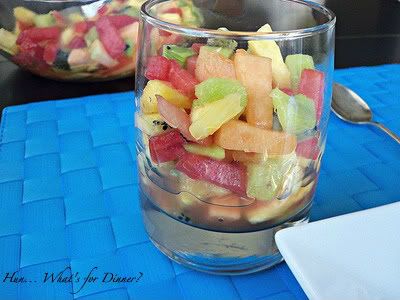 You can throw just about anything in a fruit salad. I've never tried bananas, but I've heard that they are a good addition as well. I went in the tropical direction with this fruit salad, mixing melon with some beautiful tropical pineapple and kiwi. I love using those under ripe kiwi in fruit salad, since the dressing softens them up nicely. To keep with my tropical theme, I decided on a dressing made from fresh orange juice, orange zest, honey and a pinch of cinnamon. De-Lish!!
Tropical Fresh Fruit Salad
printable version
2 C water seedless water melon, chopped into 1/2 inch pieces
2 C cantaloup, chopped into 1/2 inch pieces
1 C fresh pineapple, peeled, cored and cut into 1/2 inch pieces
4 kiwis, peeled and cut into 1/2 inch pieces
1/4 C honey
2 Tbs fresh orange juice
zest of half and orange
a pinch of cinnamon
Place all the fruit in a large mixing bowl. In a glass measuring cup, or bowl, combine the honey, orange juice, zest and cinnamon. Whisk to completely combine. Pour over fruit and toss to coat. Refrigerate for at least 30 minutes and stir before serving.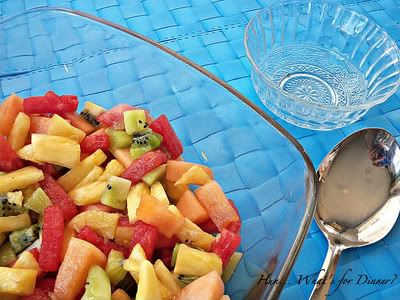 This post linked to
Full Plate Thursday
What's Cookin Thursday
These Chicks Cooked
Gallery of Favorites
Fit and Fabulous Fridays
Church Supper