Good morning everyone!!
I am super excited today, because yesterday was a milestone day for Hun...WFD on Facebook. Yesterday, my page reached 2000 FB 'LIKES'!! I am excited and overwhelmed at the same time. The caring, kind words, encouragement and friendships I have found in the Facebook community, is more than anything I could have imagined, when I decided to take my blog to Facebook.
Many new bloggers often ask me how I got this far. All I can say is that it is a slow process. I didn't start my blog with ideas of grandeur and fame, I started it because I loved cooking, and I wanted to keep track of recipes I had made and enjoyed. But I must admit, don't we all have that little desire to be famous?? Even though I am not a star, I feel blessed to be able to reach out to so many of you, through social media. I love reading about your lives, what you like to cook and if you've tried one of my recipes and if it was successful.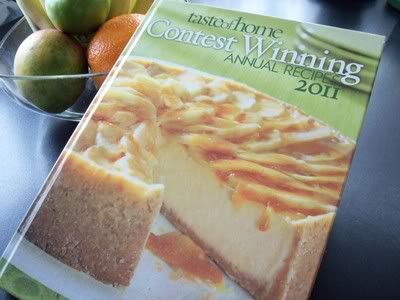 So, as a THANK YOU, to everyone who has helped me reach my latest milestone, I am hosting a giveaway. What I have chosen to give away is something that I enjoy- a cookbook. I can often be found curled up in a chair reading cookbooks, like novels. So, I thought I would share one of my favourite things with you. I also love Taste of Home and am a subscriber to their magazine. I recently bought some of their cookbooks and thought that one of these cookbooks would be a perfect gift, to one of my loyal Hun...WFD friends. The winner of this giveaway will receive a copy of Taste of Home's Contest Winning Annual Recipes 2011 edition. This cookbook is filled with deliciously creative contest winning recipes and wonderful mouthwatering photos. To enter, simple use the Rafflecopter below
Disclaimer: This giveaway is in no way affiliated with Taste of Home. I have purchased this product on my own and am happy to give it to the lucky winner.
a Rafflecopter giveaway