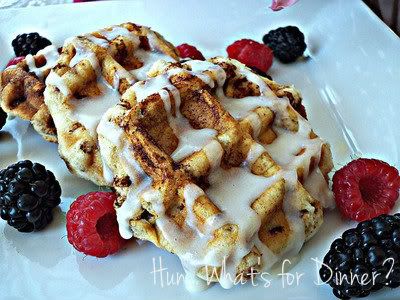 This weekend is a long weekend, here in Canada. So we've been trying to make it as special as we can. Yesterday was spent at the Farmer's Market, then we came home and set up the kids new sprinkler. They enjoyed beating the heat that way, while I enjoyed browsing through food magazines, sipping on iced tea and snacking on cold water melon. We stayed up late, in hopes of seeing a few fireworks in the neighbourhood. The combination sun and staying up late, resulted in a great sleep in this morning. That does not happen very often, so I thought I'd treat the kids to a fun and yummy breakfast.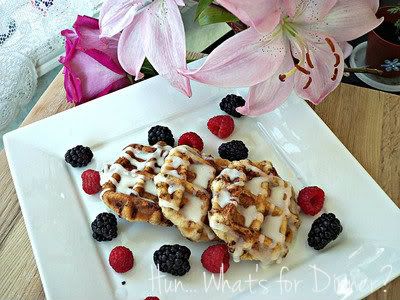 I saw the idea for these waffles on Pinterest. Even though I am currently very upset with the ever popular Pinterest for deeming my site as containing spam, and preventing people from Pinning my recipes...... I couldn't get these waffles out of my head. I mean how simple are they? Buy cinnamon rolls, turn them into waffles. I wonder if these would work out with homemade cinnamon rolls. I rarely make homemade, since they take such a long time, LOL. The kids really loved these and we quickly plowed through the 8 waffles that were made. It's a good thing DH was still sleeping, because we would have went hungry. If you are making these for more than 3 people, I suggest using 2 pkgs of cinnamon rolls.
Cinnamon Roll Waffles
1 pkg cinnamon rolls with frosting
non stick cooking spray (I used canola oil spray)
Preheat your waffle iron. Spray grates generously with oil/cooking spray. Place one cinnamon roll onto each preheated grate and close waffle iron. Cook for about 3 minutes, depending on what temperature your waffle iron works at; mine only has one heat setting so they were done in about 2 1/2 - 3 minutes. Remove from waffle iron. Place frosting in a pipping bag, or zip top bag (with a small hole snipped from one corner) and drizzle waffles with frosting.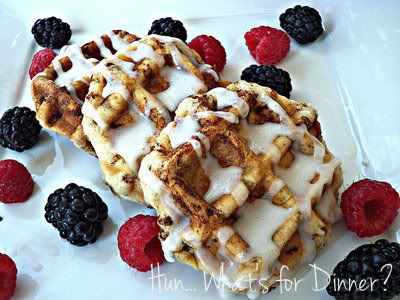 This post linked to
Sweets for Saturday
Weekly Round-up
Super Saturday Party
Weekend Potluck
Church Supper