This month as part of the #FinishRevolution team, we were asked to take part in a webinar about Finish Dishwasher Detergent. The webinar gave us an inside look at why Finish is so awesome and works so well. I just wanted to share a few things I learned with you, so you can see why Finish is so much better than other dish washing detergents.
1. Many things can affect your dishwashers performance, such as the chemistry of your dish washing detergent. Finish Quantum is the only dish washing detergent that contains both enzymes and bleach. Other brands or types for detergents only have one, or the other. Enzymes break down proteins like egg, oatmeal, mac n cheese. The bleach is what eliminates soil and stains from things like coffee and/or tea. It oxidates the water, which makes these stains more removable.
2. Water temperature is also important to make sure these enzymes and bleach do their work properly. Enzymes work best at 122 degrees, where Bleach works best at 140 degrees. To make sure you get the best results from Finish Quantum, you should keep your hot water tank set to at least 120 degrees.
3. Now, I have to say that I am guilty of this.... storing my dishwasher detergent under the kitchen sink. Have you ever bought a box of dish washing powder, only to have it turn into one big clump, under your sink? That's because it is one of the dampest places in your house. That dampness activates the cleaner in your detergent and in turn, it can't do it's job properly when placed in the dishwasher.
4. I have one last question to ask. Do you clean your dishwasher? You're probably like me, you're thinking it cleans dishes, and if they are clean, why would I have to clean my dishwasher?!? Well, sometimes food particles get stuck in your dishwasher, due to hard water build-up and lime build-up. These food particles can turn into bacteria, which is pretty gross. A good way to get rid of these deposits and bacteria is to use Finish Dishwasher Cleaner, at leas once a month.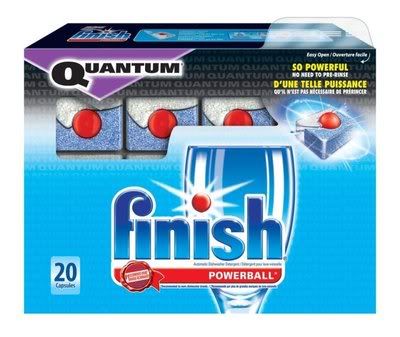 So, I'm hoping what I've shared with you helps you understand why so many people are excited about Finish Dish washing Detergent and I hope it helps you get the best performance out of Finish Quantum and your dishwasher. Just to show you how awesome Finish Quantum is, Finish has generously offered to send one lucky reader 2 packages of their Finish Quantum Dishwasher Detergent. How awesome is that???
Just use Rafflecopter below to enter.
Contest open to Canadian Residents only and will run until May 29, 2012.
**Disclosure: I am part of the Finish Blogger Program by Mom Central. I received compensation as part of my affiliation with this group. The opinions on this blog are my own.**
a Rafflecopter giveaway