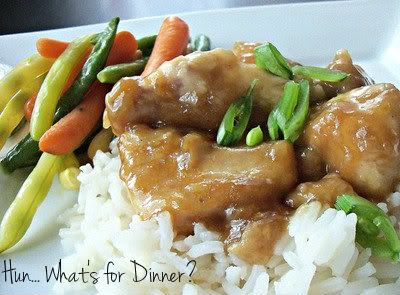 I love chicken! It's one of my favourite proteins to eat and prepare. Hubby and my nephew on the other hand, love beef. And often mention that I do not cook with enough of it. To keep the boys interested in chicken, I like to keep them on their toes and to make a variety of chicken dishes. But I have to say, I too, often get bored of the recipes in my repertoire. Thankfully I belong to an awesome Facebook group called
Mom's Recipe Collection
.
You should go and request to join, since it's a really awesome group!!
Susan, the co owner of the board, is really great in the kitchen and has a photo album full of mouth watering chicken dishes.
While browsing them the other night, this one caught my eye. It seemed so simple and boasted great citrus flavour. The kids love Chinese Orange Chicken, so I decided to give this one a whirl.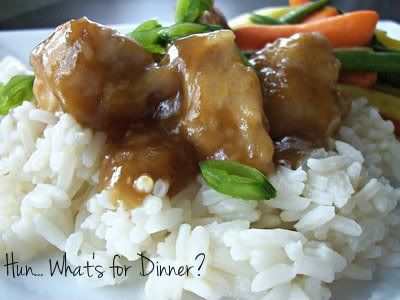 This chicken is fantastic!! It turned out so tender and it had the perfect combination of sweet and savory. The orange flavour was very present, but not overwhelming, which is the part I loved best. And did I mention it was super easy?? I LOVE dishes like that! I served it over some cooked rice and the kids absolutely gobbled it up. To be honest, I was very sad to find that the leftovers had disappeared over night, LOL. This is definitely going into my chicken rotation, for those nights when I'm craving take out. This, however, is way better!
Orange Chicken
Adapted from Mom's Recipe Collection/ Susan Harder

2 lbs chicken,cut in cubes
1/2 c flour
1 tsp garlic powder
1/2 tsp pepper
2 tbsp butter

1 1/2 c water
1/4 c + 2 tbsp fresh orange juice
1/3 c rice vinegar
2 1/2 tbsp soy sauce
1 tbsp orange zest
3/4 c br sugar
1/2 tsp finely minced ginger
1 tsp minced garlic
3 tbsp cornstarch
1/4 c water

Heat oven to *350. Melt butter and put into baking pan. Put chicken,flour,garlic powder and pepper in a plastic bag and shake. Put chicken in a single layer in pan and bake for 30 min. In a saucepan combine water,vinegar,soy sauce,juice and rind. Stir over med heat,add sugar,ginger and garlic. Bring to a boil,then add cornstarch mixed with water. Boil to thicken. Pour over chicken and bake another 1/2 hr basting every now and then. Serve over rice and sprinkle with green onion.
This post linked to
Tasty Tuesday
Delicious Dishes
See ya in the Gumbo
Hearth and Soul
What Makes you say Mmmmm?
Gooseberry Patch Recipe Round-up