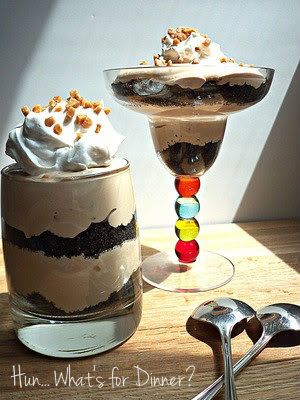 Today is a day to celebrate US, all the wonderful hard working, caring MOMS out there. To all of you I would like to say Happy Mother's Day and I hope you have a fantastic day, surrounded by those you love. If you are still looking for something sweet and special to end your meal tonight, I have just the thing.
With the warm weather I like to try a make more no bake desserts. That way I don't heat up my house, but can still enjoy a sweet treat on a special occasion. This Chocolate Coconut Toffee No Bake Cheesecake Dessert would be the perfect way to treat your mom (or yourself) today.
Chocolate Coconut Toffee No Bake Cheesecake Dessert
printable version
1 C whipping cream
1 Tbs coconut flavored rum
1/4 C powdered sugar
1 1/2 pkgs of cream cheese
1 C coconut milk
3/4 C dark chocolate
1/2 C powdered sugar
1/2 C toffee bits (I used SKOR)
1 C chocolate cookie crumbs
1/4 C white sugar
2 Tbs butter, melted
toasted coconut, or toffee bits for garnish
extra whipped cream, for garnish
In your mixers bowl, with whisk attachment, whisk whipping cream to soft peak. Add in coconut rum and 1/4C powdered sugar and whisk to stiff peaks. Refrigerate, for later use.
Over med low heat, melt the chocolate into the coconut milk, in a small sauce pot.
In a small bowl, combine the cookie crumbs and white sugar, mixing until well combined. Add in butter and mix until butter has coated all cookie crumbs and mixture resembles coarse meal. Set aside.
In a separate bowl, whip the cream cheese. Add in the chocolate coconut milk and beat until smooth. Add in the powdered sugar and toffee bits; beating to combine.
To assemble:
Place a small amount of the cookie crumbs into a serving dish. Cover with a layer of cheesecake mixture. Repeat layers one more time, top with additional whipped cream and garnish with toffee bits, toasted coconut, or both.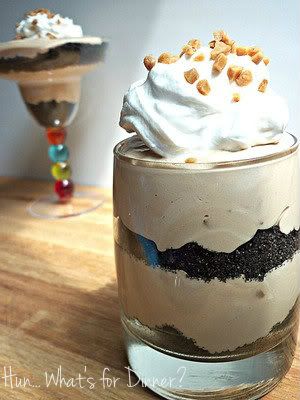 This post linked to
Church Supper
Sweets for a Saturday
Death by Chocolate Linky Party