What is it about breakfast, that makes it so delicious? On the nights when I don't feel like cooking, I tend to turn to breakfast for dinner. It's quick, easy and sooooo delicious. Last week we all had a nasty cold and the last thing I felt like doing was to stand in the kitchen, making dinner. So, we ate breakfast for dinner, quite often, LOL. Waffles is one of the kids favourite breakfast for dinner items, so I decided to try and change them up a bit. I wanted to add in some bacon, but wanted the waffles heartier as well, so I decided to add in a bit of cornmeal. To add a nice sweetness to the waffles, I added in some yummy maple syrup.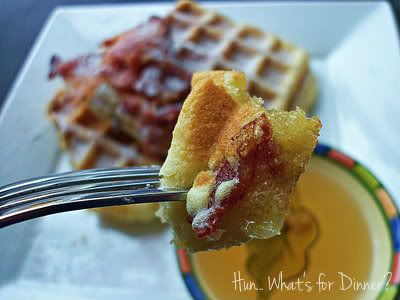 These waffles were amazing!! They were even delicious the next day, cold, out of the fridge. They were fluffy, yet hearty, with a nice salty-sweet and smokey flavour. The kids loved the little bits of bacon running throughout and thought it was pretty neat that I had put the bacon IN the waffles, rather than serve it on the side. Dusted with some powdered sugar and served with additional maple syrup, these waffles are an awesome twist on a breakfast classic.
Maple Bacon Waffles
printable version
6 slices of bacon
1/2 C cornmeal
1 1/2 C flour
3 tsp baking powder
1 tsp salt
2 eggs
1/4 cup Maple syrup
1 tsp vanilla
1/2 C melted butter
1 1/2 C Buttermilk
Cooking Spray
Preheat your waffle iron.
Preheat a skillet over medium heat. Chop the bacon, into thin strips and add to the hot skillet. Cook until crisp, remove and drain on a paper towel.
In a bowl, combine the flour, cornmeal, baking powder and salt. Set aside.
In a separate bowl, mix together your egg yolks and syrup; until very well combined, light and foamy. Add in the vanilla, melted butter and buttermilk; continue whisking. Add the wet ingredients into your flour/cornmeal mixture and stir everything together. Gently fold in the cooked bacon pieces.
Spray your preheated waffle iron with cooking spray. Pour some of the batter onto the waffle plates, close and cook for 4-5 minutes, until golden brown. Serve sprinkled with powdered sugar and additional maple syrup.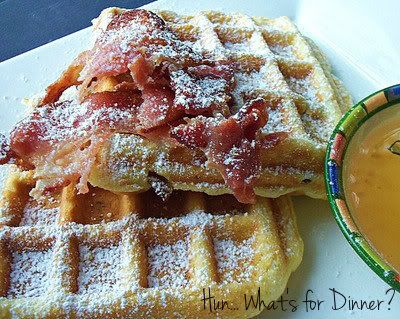 This post linked to
Full Plate Thursday
What's Cookin Thursday
Church Supper
Foodie Friday
Friday Favorites
Food on Friday