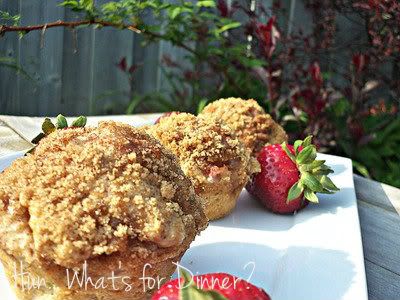 Last weekend, the kids and I took our first trip of the year, to the Farmer's Market. Though there wasn't much produce yet, I did enjoy being able to get some fresh rhubarb and asparagus. I brought a rhubarb root, from my parent's house last summer, and I'm pretty sure it will not be producing much of anything this year. It usually needs about a year, to just establish it's roots. So, when Queenie say the big stalks of tart rhubarb, she asked if we could get some. Growing up, we use to eat rhubarb, dipped in sugar. As I grew older, I seemed to enjoy it more with a sprinkle of salt. It totally amazes me that Queenie will happily munch of rhubarb, as is. She loves the tartness and she makes the cutest faces, as she's eating it.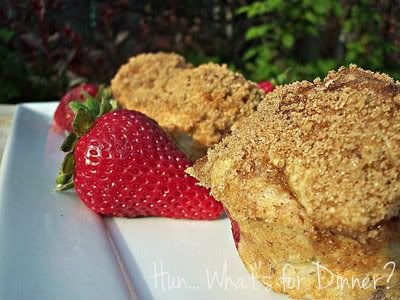 I had some strawberries in the fridge that were screaming at me to use them up. That's right, every time I'd open the door I would see the sorry berries and would imagine them screaming to be rescued from their misery. I really hate how quickly berries go bad lately. I can buy some and maybe 2 days later, I have to toss half of them. And I don't wash them until right before I use them, so I have no clue what is going on. Our fridge is cool enough.... maybe too cool? Who knows..... Since it was overcast and cool, I decided to make up a batch of muffins. I usually make a rhubarb cake with a brown sugar cinnamon topping, so I knew I wanted something similar on top of these muffins. These are super awesome. Tender, with bursts of bright strawberry and tart rhubarb. The kids loved them too and we ate them all in a matter of days, LOL.
Maple Strawberry-Rhubarb Muffins
printable version
2 C
Flour
1 C whole wheat flour
2/3
C brown sugar, packed
1/4 C maple syrup
1 1/4 tsp
baking soda
1/2 tsp
salt
1/2 C
butter, melted
1
egg
1 C
buttermilk
1 1/4 C
rhubarb, chopped
3/4 C
strawberries, chopped
TOPPING
1/2 C
brown sugar, packed
1/2 tsp
cinnamon
Preheat oven to 350 degrees. Spray insides of muffin tins with non stick spray; set aside.
Combine dry ingredients into a bowl. Toss in strawberries and rhubarb, to coat; set aside. In a seperate bowl combine the maple syrup, melted butter, egg and buttermilk; whisk until well combined. Pour wet ingredients into dry and mix until just combined.
Pour batter into prepared muffin tins. In a small bowl, combine the topping ingredients. Sprinkle topping equally over batter in each tin. Bake for 25-30, until a toothpick inserted comes out with a few crumbs
attached.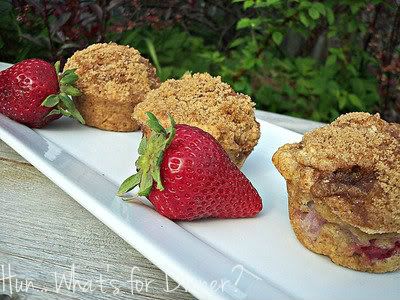 This post linked to
Weekend Potluck
Sweets for a Saturday
Bake with Bizzy