Every Sunday, I can usually be found in the kitchen making muffins. I like to bake up a batch of muffins and have them handy as snacks, or for Mr.B's lunch box during the week. My go to recipe is usually contains bananas, but now and then I like to switch it up. Once again my friend Susan from
Mom's Recipe Collection
posted the most delicious looking muffins, last week. I knew right away I wanted to make them and jotted down the recipe. Well, Sunday morning rolled around and as I was making breakfast, I discovered that my strawberries were getting ready to turn. Not wanting to waste them, I decided to add them to Susan's muffin recipe, rather than cranberries.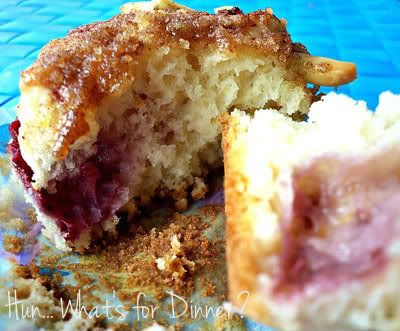 These muffins smelled wonderful before they were even in the oven. The nice bright burst of citrus, paired with the cinnamon-y sweetness of the topping was making my tummy rumble. They are nice and moist and I love the extra bit of sweetness from the brown sugar and the savory crunchiness from the toasted nuts. The kids and Hubby all loved these too and I am a little embarrased to say that we have almost eaten the whole batch; and it's only Tuesday, LOL. I'm including a video of me making the muffins, if you'd like a peek into my kitchen.
Orange-Strawberry Streusel Muffins
Adapted from Susan Harder and Mom's Recipe Collection
printable version
2 c flour
1/3 c sugar (may add a bit more if you want a sweeter muffin)
1 Tbsp baking powder
1/2 tsp salt
1 lrg egg
1/4 c veg oil
3/4 c milk
1/4c orange juice
1/2 tsp grated orange peel
1 c fresh strawberries, chopped

topping:
1/4 c slivered almonds
1/4 c brown sugar ,packed
1/2 tsp cinnamon

In a bowl whisk dry ingredients. Toss in berries to coat. In separate bowl, mix rest of ingredients.. Gently and throughly mix dry ingredients into wet. Put into muffin tins 3/4 full. Mix topping and sprinkle over batter. Bake at 375* till browned or they are domed and toothpick comes out clean.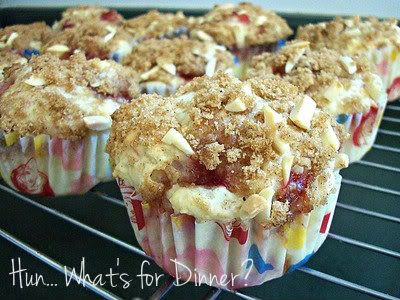 This post linked to
See ya in the Gumbo
Hearth and Soul
What Makes you Say: Mmmmm?
Delicious Dishes
Tasty Tuesday