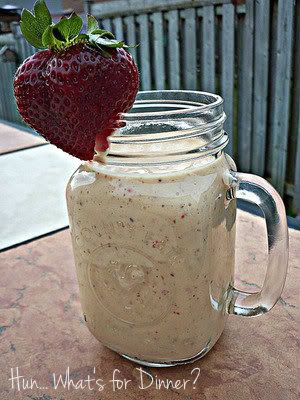 Although I am a morning person, I find that since having kids, I long to sleep in just that tiny bit more, in the morning. This longing is a little counter productive, when it comes to our week day routine. Mr.B and Queenie, need a good hour, to eat, get dressed and ready for the day, so I need to be up at least 30 minutes, before they are. Even with all that time, I feel rushed when it comes to getting myself something to eat. So, I often turn to smoothies, since I can throw them into a travel mug and bring them along with me.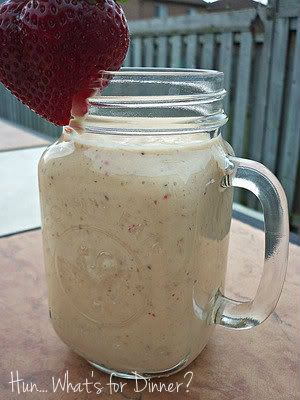 My new favourite smoothie combination, is full of tropical fruit, Greek yogurt and ground flax seed. I add the ground flax for added protein and Omega-3 fatty acids. Flax is also great for intestinal health and is said to help reduce the chances of certain types of breast cancers. I add a touch of honey, for a bit of added sweetness and enjoy. The best part is the kids also love smoothies, so they are getting a whole lot of nutrients, without even knowing it!!
Paradise Sunrise Smoothies
printable version
1 mango, cut into cubes
4 large strawberries, cut in half
1 large ripe banana
1/2 C Greek yogurt
1/3 C orange juice, or milk
1 Tbs ground flax
1-2 Tbs honey (depending on the sweetness of your fruit)
Throw all ingredients in a blender, and blend on HI speed, until smooth; about 3 minutes. Pour into glasses, garnish with additional strawberries and enjoy.
Makes 2 servings
This post linked to
Fit and Fabulous Friday
Weekend Potluck
Feed Your Soul
Weekly Round-up