Although I like cooking, there are some nights where I have a million things to do and little time to stand in front of the stove and cook. These nights I turn to casserole type dishes, ones where you throw them into the oven and they cook themselves. No stirring, sauteing, thickening involved. This is the case with this recipe. I start the chicken, while I peel the potatoes, then throw the seasoned potatoes in there and top with the somewhat cooked chicken. Since potatoes usually cook faster than chicken, I like this method of preparing this meal. The end result is perfectly cooked chicken and tender potatoes.
Hubby use to make the most wonderful Rosemary Chicken, at the restaurant where he worked, when we first met. It was one of the most popular dishes requested for catered parties and while I wasn't a big rosemary fan in those days, I did like his chicken.
Hmmm, maybe I just liked the chicken because I thought Hubby was hot..... LOL
. So this is a take on that chicken that I remember from so long ago. Though it isn't exactly the same, it has a lot of the similar flavours. The rosemary, the garlic, the paprika. The kids really love their chicken seasoned this way and the drippings flavour the potatoes beautifully. These are the best photos I could get, because let's face it; chicken legs are not very photogenic!!
Rosemary Thyme Chicken and Potatoes
6-8 chicken legs
1 tsp season salt
1/4 tsp paprika
1/2 tsp onion powder
1/4 tsp garlic powder
1 tsp dried rosemary, slightly ground
1/2 tsp dried thyme
1 Tbs coarse sea salt
1/2 tsp fresh cracked pepper
2 Tbs butter, cut into small pieces
8-10 medium potatoes, peeled and cut in half long ways
Preheat oven to 400 degrees.
In a small bowl, mix the spices and stir to combine. Place chicken legs in a oven safe dish and sprinkle with 3/4 of the spice mixture. Sprinkle with butter and bake while you peel the potatoes.
Once potatoes are peeled, remove chicken from oven and transfer chicken from baking dish to a plate. Place potatoes in baking dish, turning to coat with melted butter and drippings. Season potatoes with remaining spice mixture and place chicken legs on top of potatoes. Return to the oven and cook until both potatoes and chicken are cooked through; approx 30 minutes.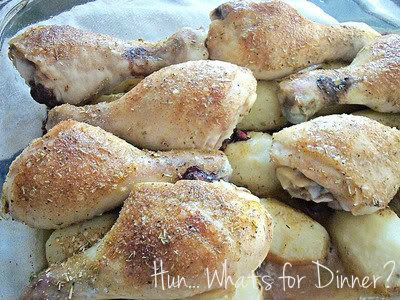 This post linked to
Bake with Bizzy
What's Cookin' Thursday
Full Plate Thursday
Friday Favorites
Foodie Friday