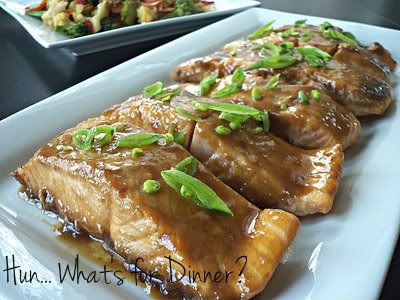 Growing up, we always had access to fresh fish. My dad was an avid fisherman and could be found on the lake often throughout the year. He would bring home his catch and we would gorge ourselves silly. Though he brought home a selection of fresh water fish, I was more partial to the lighter tasting white fish. Anytime Dad would bring home trout or salmon, the only way I could eat it, was slathered in ketchup. Now that I was older, I decided it was time to put the ketchup away and to get a more sophisticated palate. The only problem was, I still wasn't fond salmon. The taste was too overwhelming for me and I really couldn't stand it. Then one day I saw my friend Lyndsay,
the Kitchen Witch
, make this amazing looking glazed salmon, on her
Charmed
cooking show.
The thought of masking the pungent flavour of the salmon with sweet maple syrup, salty soy sauce and spicy wasabi had me wanting desperately to try this recipe. So, I went ahead and bought some salmon and made her recipe. I can not say enough how much I LOVE this recipe. It tames that fishy taste, while adding amazing Asian inspired flavours. The whole family went nuts over this fish and it has become our family favourite. Anytime I can get some salmon at a reasonable price, you can bet this salmon will be on our table for dinner.
Sweet Salmon Bake
Adapted from The Kitchen Witch
Ingredients
* 1/4 cup maple syrup
* 2 tablespoons soy sauce
* 1 clove garlic, minced
* 1 tsp Wasabi paste
* 1 large salmon filet
Directions
1. In a small bowl, mix the maple syrup, soy sauce, garlic, and Wasabi paste.
2. Place salmon in a resealable plastic bag and marinate in the refrigerator 30 minutes to an hour.
3. Preheat oven to 400 degrees F (200 degrees C).
4. Wrap fish and marinade in foil and bake 15- 20 minutes, or until easily flaked with a fork.
5. Serve drizzled with the additional marinade.
Cindy's notes:
I like to pour the marinade from the cooked fish into a small sauce pan and simmer until reduce to a thick syrup like glaze. I then bush it on the salmon, before serving, sprinkled with chopped green onion or snow peas.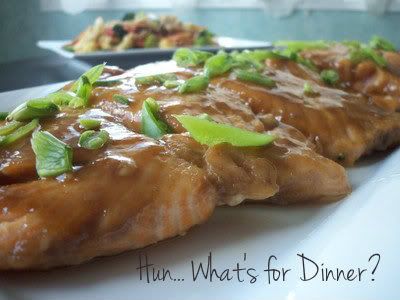 This post linked to
Delicious Dishes
Tasty Tuesday
See ya in the Gumbo
What Makes you say Mmmm?
Hearth and Soul