I love breakfast! It's one of those meals I don't mind eating, any time of the day. Actually, you can find me serving up breakfast, for dinner, at least once a week. It's one of those meals that I know the kids will devour without any hesitation or complaint.....
I just love those nights
. I also find myself reaching for breakfast foods, at lunch time. It's quick and satisfying and doesn't leave me chewing my arm off, at 3pm.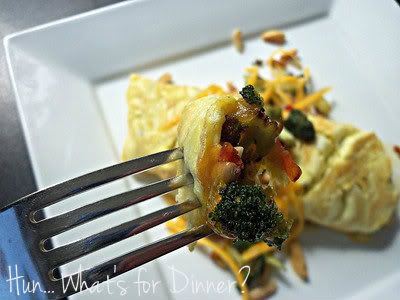 Eggs are so versatile, they'll go with practically anything. I love making myself omelets, for lunch. I say myself, because any time I try to make an omelet for Hubby, it rips and ends up looking more like an pile of eggs and filling, than an omelet.....
still trying to figure that one out, LOL
. For this one, I decided to take some ingredients that I love, saute them and use them as a filling. Broccoli, red pepper and cheddar are a perfect combination and I decided to add in some slivered almonds, for crunch. Home run!!
Broccoli and Cheese Omelet
printable version
1 Tbs olive oil
1/4 C chopped broccoli, finely
1/2 small onion, finely chopped
1/4 of a red pepper, chopped
1/4 C slivered almonds
1/4 C low fat sharp Cheddar cheese, grated
1 egg
2 egg whites
2 Tbs low fat milk
salt and pepper
2 Tbs butter
In a small skillet, heat the olive oil over medium heat. Add the onion, red pepper, almonds and broccoli. Season with a touch of salt and pepper and cook until onion is translucent and broccoli is tender. Set aside.
In a second small skillet, melt butter over med- low heat. In a bowl crack the egg and add the egg whites. Season lightly with salt and pepper, add milk and whisk until completely incorporated and very frothy. Slowly pour the eggs into the skillet. Cook, moving set eggs into the center and tipping pan to let raw eggs take their place. Once all eggs are soft set, add in 3/4 of the filling and 3/4 of the grated Cheddar. Starting from one end, flip one side of the omelet to the center and flip center of omelet onto the remaining edge. Carefully slide onto a plate and top with remaining broccoli mixture and cheese.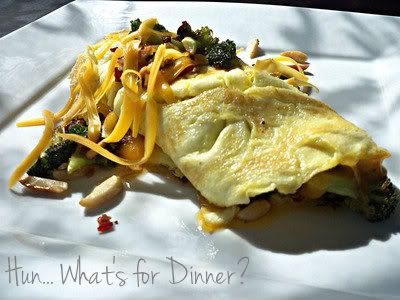 This post linked to
Full Plate Thursday
Fit and Fabulous Friday
Friday Favorites
Foodie Friday