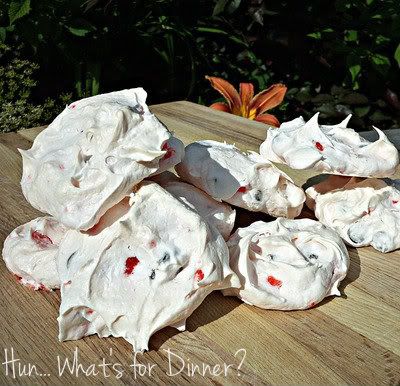 I've been busy in the kitchen this week, making all sorts of goodies, for school, for us, for my blog. These cookies were totally not on the agenda, but I was left with 3 extra egg whites, a ton of maraschino cherries and chocolate chips, so I decided to make some meringue cookies. This is the first time I ever made, or tasted meringue cookies and let me tell you, I'm in love. So easy to put together and they don't heat up the house too much, since they are baked at such a low temperature. I actually started these an hour before having to leave to get Mr.B from school; totally not knowing they needed to cook for an hour, to an hour and a half. Thankfully I felt comfortable enough to leave them at such a low temperature, for the 30 minutes I needed to get Mr.B home.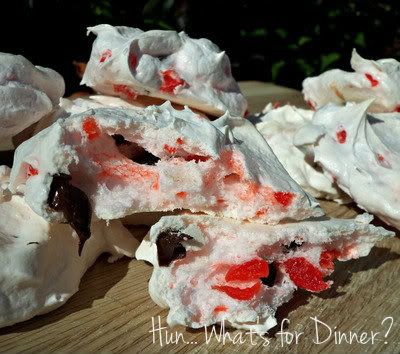 These cookies are addictive!! I love the way they are crunchy, but also almost dissolve completely in your mouth. I really like the flavour of the chocolate and cherries, with the airy crispy meringue. The kids were a little apprehensive about these cookies, but after one bite they loved them. I even sent a few in with Mr.B's lunch today and though his sandwich wasn't completely eaten, the cookies sure were, LOL. I love that these are naturally gluten free and though they are high in sugar, these are very low fat. Next time I make these, I think I may try to cut the sugar in half, since the cherries and chocolate add such great sweetness.
Cherry-Chocolate Chip Meringue Cookies
printable version
3 egg whites, at room temperature
1/4 tsp cream of tartar
pinch of salt
1 C sugar
1 C semi sweet chocolate chips
1/2 C maraschino cherries, well drained and finely chopped
Preheat oven to 225 degrees. Line cookie sheets with parchment paper and set aside.
In a mixer bowl, on high speed, beat egg whites to soft peaks. Add in salt and cream of tartar, and gradually beat in sugar. Continue beating to stiff peaks and beat for 1-2 additional minutes, until egg whites are fluffy and glossy. Add in chocolate chips and cherries and gently fold everything together.
Drop by generous spoonfuls onto prepared cookie sheets and slightly spread them out a bit. Bake in preheated oven for 1 1/2 hrs, until the tops are crisp and they are just about to turn slightly golden.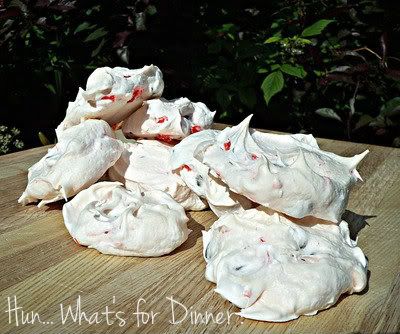 This post linked to
Tasty Tuesday
See Ya in the Gumbo
Tuesdays at the Table
Delicious Dishes
Hearth and Soul
Fit and Fabulous Fridays