Adding bacon to dessert, has become a really hot trend. One that I had not tried yet and really didn't plan of trying. Until Hubby saw this recipe from
Pillsbury
and mentioned it would be delicious. So, it recently being Father's Day and us not really having the chance to celebrate, I went ahead and made this for him. Being who I am, I went ahead and changed a few things; like making my own crust and changing the chocolate sauce up a bit. I have to be honest and say that I wasn't all that sure if this would taste good. I mean I know bacon goes well with sweet
(I love dipping my bacon into maple syrup, when I have pancakes)
, but banana, peanut butter and chocolate too??
I let this sit over night, with plans of serving it for dessert, the following night. Everyone anxiously awaited the moment we could all dig in and try this odd, but so appealing concoction. Let me tell you, it was worth the wait. We all LOVED this pie!!! It was creamy, slightly sweet and salty. The crisp bacon had softened slightly and added a great smoky and salty contrast to the sweet pie. The crust also added a nice savory aspect, ensuring this pie wasn't overly sweet. Hubby thought it was an awesome pie and it was completely gone by the next afternoon. So, if you're looking for a show stopping dessert, that will impress everyone, go ahead and make this for your next gathering. It's sure to be the talk of the evening!!!
Chocolate Peanut Butter Pie with Bacon
printable version
Crust:
2 1/2 C flour
1/2 tsp salt
1 1/2 tsp baking powder
1/2 lb lard
1 Tbs lemon juice
1 egg, room temperature
water
Chocolate Sauce:
1 C heavy cream
1/2 C brown sugar
1 1/2 C (200g) 80% dark chocolate, chopped
1 Tbs butter
Peanut Butter filling:
1- 8oz pkg cream cheese, softened
1/2 C natural peanut butter*
3/4 C powdered sugar
1 C whipping cream
1/4 C powdered sugar
1 tsp vanilla
1/3 lb (6 slices) bacon, finely chopped and cooked crisp
1 ripe banana, sliced
For Crust: In a large bowl mix together the flour, salt and baking powder. Cut in lard, until mixture resembles large coarse crumbs. In the same measuring cup used to measure the flour, add the lemon juice and egg. Beat together and add water, to fill the cup. Pour a bit of the mixture into the flour, adding more if needed, mixing until dough starts to stick together. Sprinkle counter top with additional flour, take 1/3 of the dough mixture and roll out to an 1/8 inch thickness. Carefully place dough into a deep dish pie plate. Using dough scraps and a bit of remaining dough, roll out to 1/4 inch thickness. Using a small cookie cutter, cut out shapes, in rolled dough. Glue shapes onto the upper inside part of the dough in pie dish, using remaining egg mixture. Generously make holes, using a fork, in bottom and sides of pie dough. Bake for 10-15 minutes, in a 350 degree oven. Cool completely
For Chocolate Sauce: in a small sauce pot, over med low heat, add 1 C heavy cream and brown sugar. Cook, stirring constantly, until bubble begin to break surface. Remove from heat. Place chopped chocolate into a medium bowl, pour hot cream mixture into chocolate and let sit for a few minutes. Stir to combine melted chocolate, add in butter and stir until melted and combined. Set aside to cool slightly.
For Peanut Butter Filling: In your mixers bowl, add the 2nd cup of heavy cream. Beat on medium speed, until soft peaks are formed. Slowly add in 1/4 C powdered sugar and vanilla, beating on high speed, until the cream reached stiff peaks. In a large bowl cream together the cream cheese and powdered sugar, until smooth. Add peanut butter and beat until well combined. Gently fold whipped cream into peanut butter mixture.
To assemble: Pour a generous 1/2 C of chocolate sauce, in the bottom of the baked and cooled pie crust. Sprinkle crisp bacon over chocolate sauce, making sure to reserve some pieces to garnish the top of the pie. Place banana slices on top of chocolate and bacon. Spoon peanut butter filling over bananas and spread evenly. Take additional chocolate sauce and place in a zip top bag and snip a small hole in one end. Drizzle chocolate sauce over pie and garnish with remaining bacon pieces. Refrigerate at least 4 hrs, to over night, to set.
*If using regular creamy peanut butter, reduce powdered sugar to 1/2 C.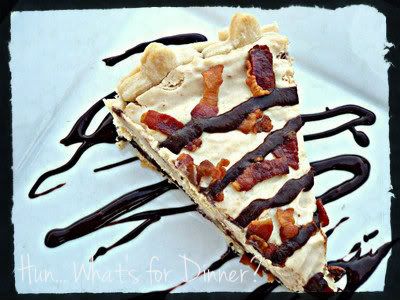 This post linked to
Sweets for Saturday
Recipe Box
Weekend Potluck
Church Supper