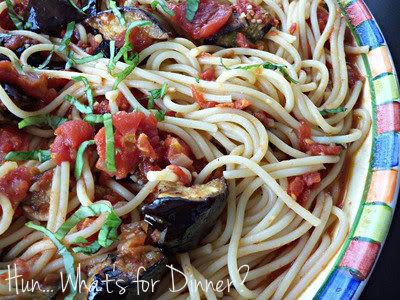 Sometimes I seriously fell like I'm loosing my mind. Lately, I've been so forgetful and it's really been frustrating. Not only did I misplace the Father's Day card I bought Hubby, I bought two gorgeous baby eggplant and had no idea what for.
Welcome to the loony bin, will you be staying long??
Yup, that's my life lately. Sounds like fun, doesn't it?? Since I couldn't and still can't remember the reason for buying the eggplant, I decided to use it to make a meatless meal. I LOVE meatless meals and could eat them all week. I'm not sure Hubby and my nephew would appreciate it much though, LOL. The kids have never had eggplant before, so I had to be careful about how I was to make this dinner. I decided to grill it and add it to pasta, tossed with a beautiful and simple marinara sauce.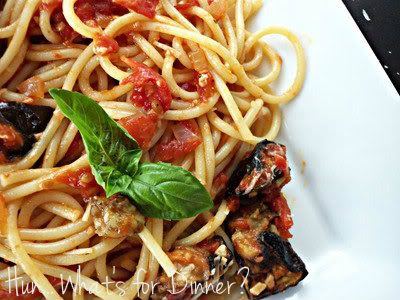 The kids went absolutely bonkers for this and even tried the eggplant. After 3 servings each and 2 pieces of eggplant, both kids had full bellies and were quick to tell me how delicious dinner was. I just love those nights!! I can't really blame them though, because this was a pretty awesome dinner. The sauce was so simple, yet full of flavour; studded with fresh basil and grilled eggplant. A perfect meatless simple supper, perfect for those busy nights, or nights where you just want something quick and easy on the table.
Grilled Eggplant Pasta
printable version
2 baby eggplants, rinsed
olive oil
garlic salt
2 Tbs olive oil
1 small onion
3 cloves garlic
2 cans whole tomatoes
1 handful fresh basil leaves, torn
1/2 tsp sea salt
1/4 tsp fresh ground pepper
1 Tbs honey
1/4 C fresh grated Parmigiano Reggiano
1 lb spaghetti
Preheat grill to medium.
Cut stem ends off of eggplant, cut in half and cut halves into 3/4 inch thick slices. Place eggplant in a bowl, drizzle with olive oil, sprinkle with garlic salt and toss to coat. Place on hot grill and cook for 2-3 minutes on each side, until golden and cooked through. Set aside.
Bring a large pot of water to a boil. Season liberally with salt and add in spaghetti. Stir and cook over medium high heat, according to package directions.
While pasta is cooking, preheat a skillet over medium heat. Add 2 Tbs olive oil, onion and garlic. Cook 3 minutes, until onion is translucent. Slowly pour in canned tomatoes, breaking them up with your hands. Season with salt and pepper, honey and fresh basil. Bring to a boil, reduce heat and simmer for 20 minutes, until reduced and thick. Once sauce is reduced, stir in Parmigiano and grilled eggplant, which has been chopped to bite size pieces. Toss in cooked pasta and garnish with additional fresh basil and fresh grated Parmigiano.
This post linked to
See ya in the Gumbo
Hearth and Soul
Tuesday at the Table
Delicious Dishes
Tasty Tuesday
Fit and Fabulous Fridays
My Meatless Mondays