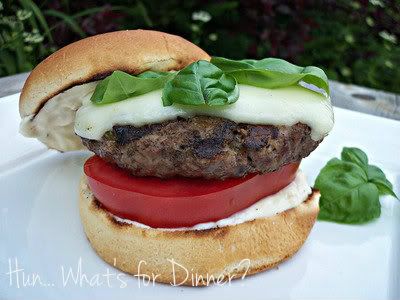 Where's the beef?
A few years ago, I would have said, "anywhere but here". I was not a big fan of ground beef, in any way, shape or form. Then I started thinking, what kind of foodie am I, if I don't get out of my comfort zone and cook with something I'm not really fond of. So, last year I decided to start making burgers from scratch, to get myself to love ground beef. I have to say that it worked. Now that it's grilling season, I'm looking forward to making burgers of every kind I can think of.
Mind you, I'm still not eating any store bought, premade burgers, like the boys seem to enjoy...... ICK.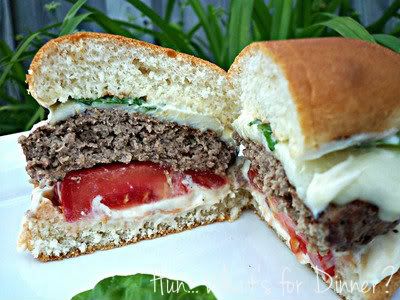 When thinking of dinner the other night, I took a glance around my kitchen and noticed my basil plant, that is overflowing with sweet basil. I haven't been using my fresh basil as much as I should be, so I thought a nice Italian style burger, topped with fresh basil would be perfect for dinner. Let me tell you, was it ever!! I loved the slight tomato flavor in the meat, the melty Provolone cheese and the tangy roast garlic Parmesan Mayonnaise. Just thinking about these is making my mouth water!
I guess it would help if I didn't write these posts before breakfast, LOL.
But I digress, the kids absolutely loved these burgers, but weren't really fond of the basil. So, I topped their burgers with a bit of romaine. These are easy, yet full of delicious flavor. Perfect for a weeknight meal.
Grilled Italian Burgers
printable version
1.5 lbs lean ground beef
1 Tbs tomato paste
1/2 tsp Italian seasoning
1/4 C Parmesan cheese
1 Tbs Worcestershire sauce
8 slices Provolone cheese
fresh basil leaves
8 rolls, or hamburger buns
1/2 C mayonnaise
2 cloves roast garlic
1/4 C Parmesan cheese
fresh ground pepper
sliced tomatoes
In a large bowl, mix together the ground beef, tomato paste, Italian seasoning, Parmesan and Worcestershire sauce. Using clean hands, gently mix the beef, until all is incorporated. Form the beef into a uniform size mound and score into equal pieces. Separate each piece in two, forming 8 patties.
Preheat grill over medium high heat. Place patties on hot grill, close the lid and cook for 2-3 minutes; until the patty easily releases from the grates. Flip patties and top with a slice of Provolone cheese. Close lid and continue cooking for 2-4 minutes; until cooked through. Remove from grill and let rest 5 minutes.
While burgers are cooking, mix the mayonnaise, roast garlic, black pepper and 1/4 C of Parmesan, in a small bowl.
To assemble: generously spread tops and bottoms of buns with roast garlic Parmesan Mayonnaise. Place a slice of tomato on bottom bun and season with salt and pepper. Top tomato with a beef patty and top with a few leaves of fresh basil. Place top bun and dig in.
This post linked to
Delicious Dishes
Tasty Tuesday
See Ya in the Gumbo
Hearth and Soul
Tuesday at the Table