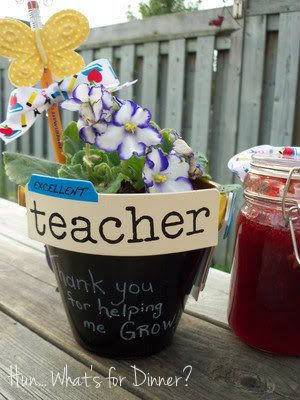 Today is the day. The LAST DAY of school!! I think I seriously am more excited than Mr.B, since I've been so beat this week and am looking forward to sleeping in and just relaxing for a few months. To help Mr.B's class celebrate, I sent in some cupcakes (look for that post next week). Mr.B got lucky again this year, and was place in a class with a wonderful teacher. I loved how his teacher called us several times a year, just to keep us in the loop of how Mr.B was doing, how he was improving and what he needed to work on. Plus, Mr.B just loved her, so that always makes the year easier. So, when I heard that his teacher was retiring this year, I wanted to send her off with an extra special gift.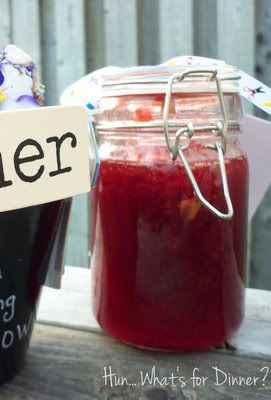 I usually give homemade food gifts, to teachers. I think they are more personal, than say a gift card. I wanted to make this gift extra special and saw the idea for this flower pot on Pinterest. I went to Michael's and came home with all my necessary materials, plus these really cute teacher themed sticker embellishments. Mr.B decided on a beautiful little African Violet plant, to put inside the flower pot. I paired this up with some delicious homemade Strawberry-Basil Sauce, that is perfect for ice cream, waffles or pancakes.
Flower Pot
you will need:
1- 4-inch terra cotta pot
Sealer spray
yellow paint
black paint
a white craft pen (bold tip)
school themed stickers/embellishments
soil
plant of choice
1 pencil
2 butterfly embellishments
ribbon of choice
hot glue
Before starting, in a well ventilated area, liberally spray inside of pot with sealer spray. Let dry and repeat 3-4 times, to ensure a nice water proof barrier is formed-
DO NOT SKIP THIS STEP
or your paint will bubble. Let dry completely over night.
Paint the top rim with yellow pain; let dry. Apply second coat, to create a bold colour; let dry. Paint bottom half of pot with black paint, with 2-3 coats of paint; letting each coat dry in between. Using your white craft pen write-
THANK YOU FOR HELPING ME GROW
with your child's name and year.
Let pot dry for an hour, to ensure everything is dry. In a well ventilated area (outside), spray outside of pot with sealer spray. Let dry completely; 2-3 hrs.
Once dry, attache stickers/embellishments to the top rim and sides of pot, ensuring to not cover the text. Carefully fill the pot with soil and transfer your plant into the pot. Wipe off any excess dirt that has fallen on the outside of the pot.
Using the hot glue, attache the butterfly embelishments onto the pecil, just below the eraser. Using the ribbon, tie a pretty bow, just below the butterflies. Insert pencil garden stake into the soil, next to the plant.
Strawberry-Basil Sauce
6 C fresh strawberries, washed, hulled and crushed
3 C sugar
1/4 C lemon juice
1 envellope of liquid pectin
3 Tbs chopped fresh basil
In a large pot, crush the strawberries. Add in sugar and lemon juice and bring to a boil, over medium heat. Stir until sugar is dissolved and bring to a rolling boil, that can not be stirred down. Stir in liquid pectin and boil for 1 minute. Stir in basil and pour sauce into sterilized jars and top with lids. Process in a hot water bath, for 10 minutes. Let cool on a clean towel. Refrigerate once opened.
This post linked to
Foodie Friday
Friday Favorites