Last month, I was approached with an opportunity to review a cookbook, that was full of amazing sounding Italian desserts. Having an enormous sweet tooth, I said yes right away. The fact that the author, Grace Massa Langlois, is Canadian and acutally lives just hours away, sweetened the deal
(no pun intended, LOL)
. I love to find new
Canadian bloggers
and help spread the word about them. Grace was born in Belgium (to Italian parents), but grew up in Southern Ontario. Through all that, she never lost her Italian heritage and her cookbook has more than 50 colour photos of her amazing and mouthwatering creations. From Tiramisu, to Panna Cotta with Raspberry Jelly,
Grace's Sweet Life
is sure to have you rushing to the kitchen and baking up one of her recipes.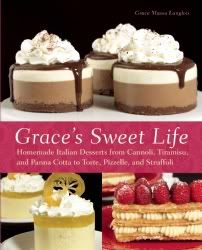 The recipe that instantly caught my eye, was right there, smack dab on the front cover. A beautiful Mille-Feuille with White Chocolate Pastry Cream and fresh berries. So stunning, so inviting; it had me quickly search for the recipe. This was my first time ever attempting pastry cream. I've always been so intimidated with all these fancy fillings, but this dessert was ingrained into my brain and I just HAD to make it. The pastry cream was much simpler than I thought it would be. I love the intoxicating vanilla scent, which mingles in this smooth, silky pastry cream. I must say that I was a little impatient and think that I didn't let it thicken enough, since it wasn't as stiff as I would have liked it. That's me.... impatient, but now that I know, I will be a pastry cream pro in no time, LOL. I love the in depth instructions that accompany each recipe. I love the variety this book holds- pies, cakes, custards, creams; it is a dessert junkie's paradise, LOL.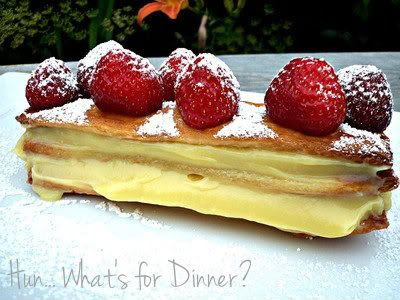 With
Canada Day
just around the corner, I thought this beautiful white and red dessert would be the perfect way to celebrate our country. After all when one thinks of Canada, we think of our white and red flag. I loved the crispy, flaky and slightly sweet puff pastry layers and how they gave a great contrast in texture against the smooth pastry cream. I chose strawberries, since we had recently been strawberry picking and it seemed fitting for
Canada Day
.
Raspberry and White Chocolate Mille-Feuille
Adapted from Grace's Sweet Life cookbook
Pastry Rectangles
confectioners' sugar, for dusting
2 (10x10- inch) sheets store-bought puff pastry, or Pasta Sfoglia (page 22)
White Chocolate Pastry Cream
2 C whole milk
1 vanilla bean, split and seeded
6 large egg yolks, at room temperature
2/3 C superfine sugar
1/4 C + 2 Tbs all-purpose flour, sifted
4 oz white chocolate, finely chopped
Assembly
fresh raspberries, for decorating
confectioners' sugar, for dusting
finely grated white chocolate, for decorating (optional)
To make Pastry Rectangles
1. Line 2 rimmed baking sheets with parchment paper. Using a fine mesh sieve, sift a light dusting of confectioners' sugar over the parchment paper.
2. Cut each pastry sheet into 10 (5x2-inch) rectangles, for a total of 20 rectangles. Use an offset spatula to transfer the rectangles to the prpared baking sheets (10 per sheet). Using a fine mesh sieve, sift confectioners' sugar over the pastry. Transfer to freezer to chill 30 minutes.
3. Preheat the oven to 450 degrees. Remove 1 sheet of pastry rectangles fromt he freezer and dust again with confectioner's sugar. To prevent the dough from rising, top with a sheet of parchment paper, lay a second baking sheet on top, and weigh it down with a ceramic baking dish. Reduce the oven to 375 degrees and immediately transfer the pastry rectangles to the oven and bake until golden, 15-20 minutes. Remove from oven. Remove the baking dish, the top baking sheet and the top parchment paper. Carefully flip the pastry rectangles over, return to the oven and bake until golden and crisp, about 5 minutes longer.
4. Transfer the pastry rectangles to a wire rack to cool. Return oven to 450 degrees and repeat with remaining sheet of pastry rectangles, remembering to lower the temperature to 375 degrees when ready to bake. If not assembling the mille-feuille within 2 hrs, transfer the cooled pastry rectangles to an airtight container and store at room temperature.
To make the Filling
1. Reserve 1/c C milk. In a small saucepan over medium heat, bring the remaining milk and the vanilla bean and seeds just to a boil. Remove from heat, cover, and allow vanilla to steep for 10-12 minutes.
2. In a medium bowl using a large whisk, beat the egg yolks and sugar until pale in colour, 3-4 minutes. Add the flour and continue to whisk until smooth. Gradually add the reserved milk and whisk to combine well. Gradually pour the egg mixture into the vanilla infused milk whisking to combine well.
3. Cook over medium heat, whisking constantly until thickened, 3-5 minutes. Remove from heat and whisk in 4 ounces finely chopped white chocolate until smooth. Strain custard through a fine mesh sieve into a small heat proof bowl (discard the solids). Place a sheet of plastic wrap directly on the surface of the custard to prevent a skin from forming as it cooks. Refrigerate until ready to use.
To Assemble and Serve
1. Because pastry dough can shrink while baking, even when it's weighed down, stack the pastry rectangles in groups of 3 and trim with a sharp knife as needed to make them the same size.
2. Transfer the pastry cream to a large pastry bag fitted with a large decorative tip (like Wilton 1M).
3. Place pastry rectangle on a clean work surface and pipe 2 rows of pastry cream on top. Top with second pastry rectangle. Repeat with another layer of pastry cream and a third pastry triangle. Decorate with fresh raspberries. Repeat with remaining pastry rectangles and pastry cream.
4. Just before serving, lightly dust with confectioners' sugar and drated white chocolate, if using. Serve at room temperature.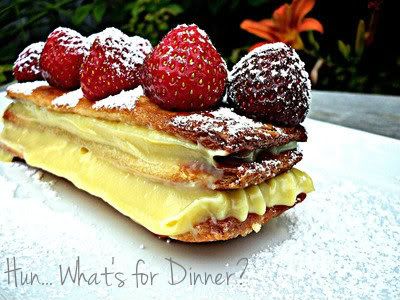 This post linked to
Full Plate Thursday
Recipe Box
Weekend Potluck
Foodie Friends Friday