This recipe has been popping up frequently around here, the past few months, so I decided to share it with you all. Hubby is the one who created this recipe and while he did show me how to make it, so I could enter it in the Real Woman of Philly contest, he seems to make it better, LOL. Isn't that the way it always is?? Like when you can never get a dish to taste exactly like your Mom's, or grand mother's. I also decided to make this, this past weekend for my sister and nephew's baby shower. Though Philadelphia Cream Cheese didn't like my recipe, my relatives LOVED it. What I am most proud of, is that I got my Dad to eat cream cheese, Parmesan and Monterey Jack cheese; and he liked it!!!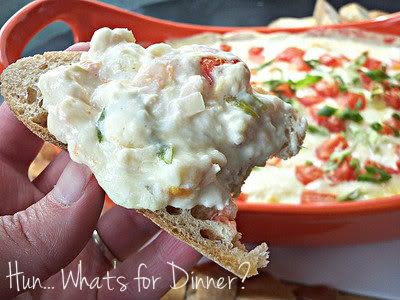 This dip couldn't be simpler and tastes amazing. I love the sweetness of the shrimp and crab with the tangy cheeses. Hubby adds a touch of Asian flare with the use of rice wine vinegar and Sriracha sauce, which just add a hint of "je ne sais quoi", to the dip. Rice wine vinegar has a more mellow taste than other vinegars, so it won't over power any of the other ingredients. If you like more spice, add as much or as little of the Sriracha red pepper sauce as you'd like. We love to serve this dip with chewy slices of baguette. Make sure to have a ton, since your guests won't stop until all the dip is gone!
Hubby's Shrimp and Crab Dip
printable version
1/2 large onion, chopped
1/2 cubanelle pepper, chopped
2 cloves garlic, minced
1 pound 61-70 count shrimp
3 tablespoons rice wine vinegar
1 tbsp worcestershire sauce
1/2 tsp hot sauce
8 ounces Philadelphia Cream Cheese, softened
1/2 cup low fat sour cream
1 pinch sea salt
1 pinch black pepper
4 120g cans of crab meat (chunks) drained
1 cup monterey jack cheese
1/4 cup Parmesan cheese
1 green onion, chopped on the bias
1 small tomato, seeded and chopped
1 baguette (whole wheat or white), sliced thinly on the bias
2 tablespoons olive oil
Heat olive oil in a medium skillet, over medium heat.
Add in onion, Cubanelle pepper and garlic; cook until onion is translucent.
Add in shrimp and cook until they begin to turn pink.
In a small bowl, combine the rice wine vinegar, worcestershire sauce and hot sauce.
Add to shrimp and cook until shrimp are fully cooked; about 3-5 minutes.
Transfer shrimp mixture to a bowl, to cool.
In a large bowl, combine the Philadelphia Cream Cheese with the sour cream, salt and pepper; until smooth and well combined.
Stir in the cooled shrimp mixture.
Gently fold in the crab.
Pour mixture into an oven safe dish.
Sprinkle with Monterey Jack and Parmesan; followed by tomato and green onion.
Bake in a 350 degree oven, until edges start to bubble and top begins to brown slightly; about 15-20 minutes.
Serve with sliced baguette.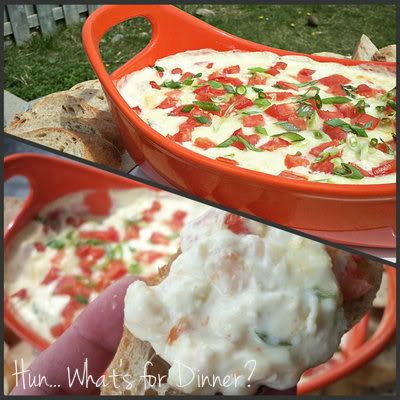 This post linked to
See Ya in the Gumbo
Delicious Dishes
Hearth and Soul
Tasty Tuesday
Gooseberry Patch Recipe Round-Up