Ever feel that 3pm energy slump?? I sure do. If I didn't have to pick Mr.B up from school during the week, you could bet I'd be napping, LOL. So I'm super excited to tell you about some yummy snacks that will give you the boost you need, without packing in those calories. Fibre 1 and Nature Valley have both come out with low cal, super yummy snacks, to keep you going strong, until dinner time.
Fibre 1 Brownies are only 110 calories and are super moist and chocolatey good. Then there is the 100 calorie Fibre 1 Chocolate Caramel & Pretzel bars.... hello, trifecta of snacking goodness, LOL. Plus they are a great way to get 20% of your daily fibre intake, in a snack. But I have to say that Nature Valley's 90 calorie Chocolate coated Granola Thins are by far my favourites. I've always loved the crispy granola bars, since they satisfy my sweet tooth and my need for crunch. These in my snacking arsenal will ensure that I'm not crashed out on the couch, when I should be getting ready to grab the kids from school.
You could look for these in the granola bar isle, at your local grocery store. And to make it easier to try these killer snacks, the
Life Made Delicious Facebook page
is offering a one-day only FREE coupon available for grabs (for fans only), by simply clicking on the free coupon tab at the top of their FB page. This coupon will be redeemable on July 24th only, so hurry to get yours now.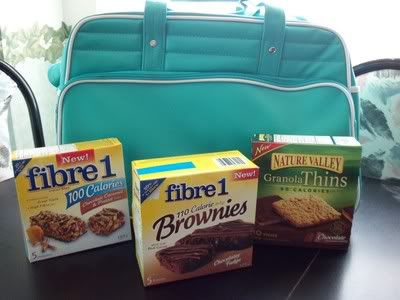 But, that's not all, the generous people over at Life Made Delicious General Mills want to give my readers a chance to get in on the excitement by offering you the opportunity to win Fibre 1 & Nature Valley Snacks kit. Each kit is valued at $50 and will include
1 box of Nature Valley Granola Thins
1 box of Fibre 1 -100 calorie Chewy Bars
1 box of Fibre 1 -110 calorie Brownies
1 weekender Tote bag
All you have to do to enter is leave me a comment, here on my blog (by clicking comments at the end of the post) and telling me what product you would be interested in trying (don't forget to leave your email, so I can contact you if you win). Contest will run from June 20 to July 3 and is open to Canadian residents only. Please note that readers may enter across multiple blogs, but may only win one prize.
"Disclosure – I am participating in the Life Made Delicious Ambassador Program by Mom Central Canada on behalf of General Mills. I received compensation as a thank you for participating and for sharing my honest opinion. The opinions on this blog are my own."