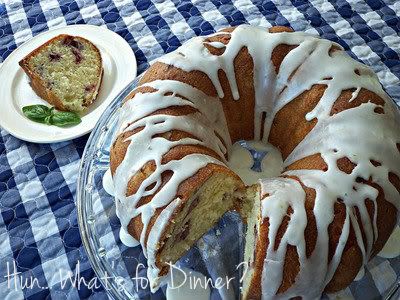 This has the be the most unbelievable cake ever!! I'm sure you may be a bit skeptical.... heck, even I didn't expect it to be this good. I figured it would be your ordinary old yogurt cake. BUT, I was SO wrong!! My yogurt cake jorney all started when I found a bunch of yogurt, in the fridge, that was past the Best Before Date. I usually use this yogurt to bake, but with the warm weather, I really haven't been using the oven much. Fate must have been on my side, because it's been a bit cooler, the past few days and I went to work. Since I'm a little obsessed with lime lately, I decided to incorporate it into the cake. And what goes better with lime than strawberries???
Well, tequila..... but that's a different story, LOL.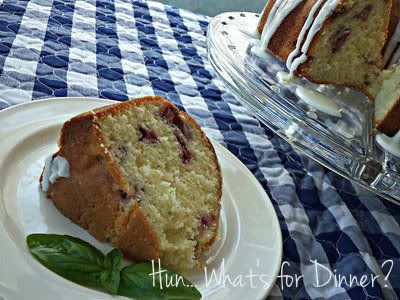 I am totally in love with this cake. I'll be honest and tell you that I am acutally having a piece, as I type this, for breakfast. I think what I'm so excited about it the texture. I'm not a big fan of homemade cakes, because a lot of them turn out dry and dense. This one however, is so light, fluffy and moist. It really does remind me of a cake mix cake, but it's totally homemade. The strawberries and lime add a nice subtle tartness to the sweet cake and the lime glaze is a beautiful puckery contrast to it all. It really rounds out the flavours, so don't skip the glaze.
Strawberry-Lime Yogurt Cake
printable version
1 cup butter, softened
1 1/2 cups sugar
3 eggs
3 tablespoons fresh lime juice, divided
2 limes, zested
2 1/2 cups all-purpose flour, divided
1/2 teaspoon baking soda
1/2 teaspoon salt
2 single serving vanilla, yogurt
1 1/2 C fresh strawberries, diced
1 cup powdered sugar
Preheat oven to 325 degrees. Grease and flour a 10 inch Bundt pan. Sift together the 2 1/4 cups of flour, baking soda and salt. Mix in half the lime zest and set aside.
Cream together the butter and sugar until light and fluffy. Beat in the eggs one at a time, then stir in 1 Tb. lime juice. Alternate beating in the flour mixture and the yogurt, mixing just until incorporated.
Toss the strawberries with the remaining 1/4 cup of flour. Gently mix them into the batter.
Pour the batter into the Bundt pan. Bake in the preheated oven for 60 minutes, or until a toothpick inserted into the center of the cake comes out clean.
Allow to cool 10 minutes in the pan, then turn out onto a wire rack and cool completely. Once cooled whisk together the remaining 2 Tb. of lime juice, lime zest and the powdered sugar. Drizzle over the top of the cake.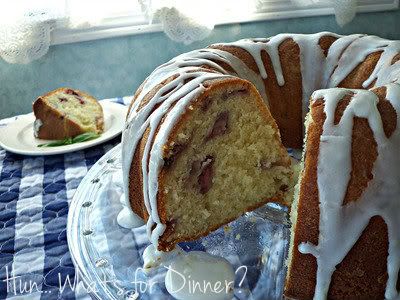 This post linked to
Recipe Box
Weekend Potluck
Sweets for Saturday
Church Supper