When I was asked to take part in the VH Sauce Grill to Thrill blog tour, I was super excited. I grew up eating VH Sweet and Sour Sauce and Soy Sauce, so I knew that this would be a delicious blog tour.
From cooking sauces to dips and marinades, VH offers a variety of international flavours (26 in total!) that will help you turn everyday meals into something a little more exotic on the grill. To help me with my post, I was sent a variety of VH sauces to try out. I was very excited to try the Tandoori Sauce, because it isn't normally something I would cook with. So, I eagerly ventured over to VH Sauce's Facebook page, to check out some BBQ meal ideas. This pork tenderloin peaked my interest, because it seemed like such a simple and light dinner.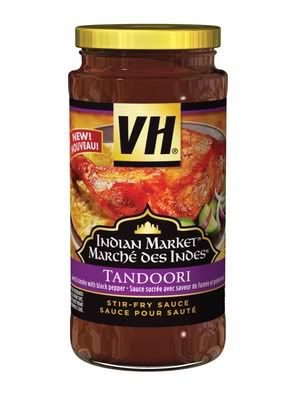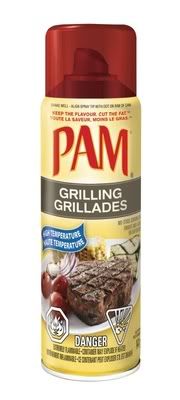 The kids really loved the layout of this meal. I placed the sliced pork tenderloin on a large cutting board and surrounded it with great accompaniments, to make our meal complete. The pork itself was so tender and just melt in your mouth. (I think it was mostly in part for using PAM Grilling Spray, to ensure the meat didn't stick to my grill grates). I loved the warm sweet and savory notes in the Tandoori sauce. It paired beautifully with the salty flatbread and goat cheese. The kids and I were totally crazy for this, topped with a mild mango chutney, but it was just as good with a nice apple chutney.
So, if you are looking for someway to spice up your everyday BBQ meals, reach for a bottle of VH Sauce, the possibilities are endless!! And don't forget to check out my VH Grill to Thrill Giveaway, for a chance to get into the excitement of using VH Sauces, for grilling!!
"Disclosure – I am participating in the VH Grill to Thrill Blog Tour by Mom Central Canada on behalf of VH. I received compensation as a thank you for participating and for sharing my honest opinion. The opinions on this blog are my own."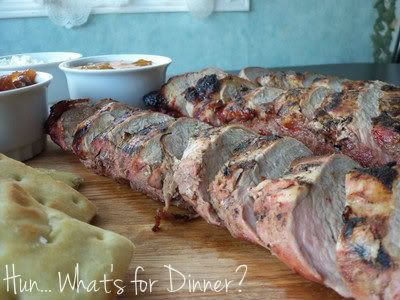 Tandoori Pork Tenderloin with Grilled Flatbread
Serves:
4
Prep time:
5 minutes
Cook time:
15 minutes
Total time:
20 minutes
Ingredients
1 lb (500 gr) pork tenderloin
1 jar (341 mL) VH® Tandoori Sauce
4 greek style pita or flat breads
Dried fruits and olives (apple slices, dried apricots, etc.)
Mango chutney
1/3 cup (80 mL) feta or goat cheese, crumbled
PAM® Grilling Spray
Directions
Marinate pork in ¾ cup (180 mL) of VH® Tandoori Sauce for 30 minutes. Spray grill with PAM® and heat to medium-high.
Wipe excess marinade from pork and discard. Sear pork on grill, 1 minute on each of 4 sides. Move meat to a cooler spot on the grill to finish cooking with indirect heat, or lower the flame, about 15 minutes. While cooking, baste pork with ¼ cup (60 mL) jarred sauce. Remove from heat, cover with foil and let rest for 5 minutes.
Slice thinly and serve with remaining jarred VH® Tandoori Sauce, bread, dried fruits, olives, chutney and cheese.
Tips:
While the cooked pork is resting place flatbreads on grill to warm through. Also, use a meat thermometer to ensure the pork's internal temperature reaches 160˚F (70˚C).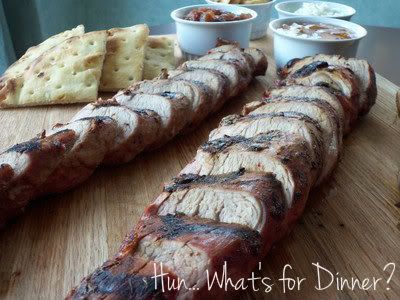 This post linked to
Full Plate Thursday
Friday Favorites
Foodie Friday