Being a food blogger has really pushed me to try foods I never would think of trying. Leeks are one of those. I wasn't intimidated with leeks, it's just I never found a reason to want to try them.
After all they are just huge green onions right??
Then last Fall, I made an amazing soup, that contained leeks and I was hooked. I buy them regularly now, and love them sauteed and golden. So, when I bought some this past week, I had planned to somehow incorporate them into a fritata, for dinner. I had some leftover bacon in the fridge and wanted to make the fritata heartier, so I decided to add in some finely chopped potato. De-lish!!!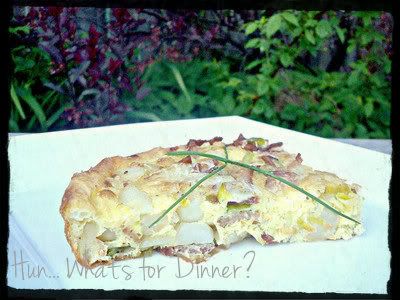 The creamy potato, smoky bacon and mild onion-y leeks pair wonderfully with the fluffy eggs. The kids really enjoyed this and Hubby lucked out and arrived home, just as we were finishing up dinner. So he was able to eat this fritata, while it was still a bit warm
(way better than reheated in the microwave)
. We all really loved that this was a complete meal, but we didn't feel weighed down by it. This would be fabulous for a brunch, or even sliced and packed up for a picnic with the family.
Bacon Potato and Leek Frittata
printable version
6 slices bacon, finely chopped
1 large leek, sliced and rinsed of all dirt
1 large potato, peeled and chopped into 1/4-inch cubes
6 large eggs
1/4 C half and half
1/4 C fresh grated Parmesan
1/4 tsp sea salt
1/4 tsp fresh ground pepper
To clean leeks: chop off tough dark green tips and root end of the leek. Cut the leek in half, length wise, then finely slice into half moons. Place leeks in a large bowl of water and swish them around, to loosed the dirt and seperate the layers. Carefully scoop up the leeks, floating on the top of the water and transfer to a clean towel; pat dry.
Preheat oven to 350 degrees. Place rack in top half of the oven.
In a medium cast iron skillet, cook the bacon over medium heat. Once the bacon starts to render it's fat and brown slightly, add in the potatoes and leeks. Cook, until potatoes are tender and bacon is crisp. Lower heat to medium low.
In a large bowl, whisk the eggs with the half and half, salt and pepper, until well combined. Slowly pour the eggs over the potato, bacon and leek mixture, in the skillet. Stir to evenly distribute the filling and sprinkle with Parmesan. Cook on the stove top until bottom begins to set; about 5-10 minutes.
Transfer skillet to oven, on the top rack and continue cooking until the eggs have set up and the cheese has browned slightly; about 10-15 minutes. Cool slightly before slicing.
This post linked to
Tuesdays at the Table
Hearth and Soul
See Ya in the Gumbo
Tasty Tuesday