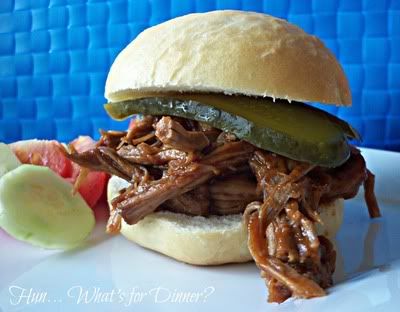 With Summer here, I've got BBQ on my mind. When I'm super busy and don't have to time to even think of getting into the kitchen to make dinner, I turn to BBQ sandwiches, that I can make in the crock pot. I love throwing my selected cut of meat into the crock pot, with some seasonings and letting it get all fork tender and delicious. A touch of our favourite BBQ sauce is all that's needed to transform the crock pot results, into something sensational. Thought I usually go with chicken or pork, when I make crock pot BBQ sandwiches, this time I went with beef. The boys really love beef and I don't cook with it very often, so this was sure to be a special treat.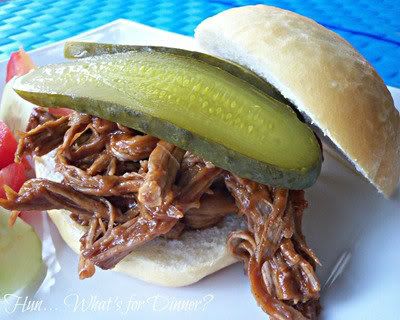 A nice cheap cut of beef is perfect for this, since it gets shredded, once cooked. I decided to try a take on the
Root beer Pulled Pork
, for a few months ago, and go with a Cola BBQ Beef. Use what ever cola you prefer; I used Pepsi, since that's what is always in the house
(now all you Coke drinkers.... don't go judging me, LOL)
. This turned out wonderfully. To increase the cola flavour, I took the drippings and reduced them down, until nice and thick, to mix back into the beef with our favourite BBQ sauce. The kids really loved this, which surprised me, since BBQ anything is never one of their favourites. I left the remainder for the boys (Hubby and my nephew), when the kids and I left for our vacation. No word yet as to whether they liked it or not, but I'm pretty sure it didn't last long in the fridge.
BBQ Cola Beef Sandwiches
printable recipes
1-3lb chuck roast
1 can of cola (I used Pepsi)
2 Tbs Cajun seasoning
1/2 C ketchup
1 tsp salt
1-2 C BBQ Sauce (I used Bull's Eye Original)
sandwich rolls, or hamburger
Sliced dill pickles
Rub chuck roast with Cajun seasoning and salt and place in a 6 qt crock pot. Slowly pour in the cola and ketchup, cover and cook on low for 6-8 hrs.
Remove beef and shred with two forks. Pour remaining cola mixture into a small sauce pot, bring to a boil and reduce until thick. Return shredded beef, thickened cola mixture and BBQ sauce, to the warm crock pot. Mix well, to coat beef with sauce and cola mixture. Serve on buns with pickles.
This post linked to
See Ya in the Gumbo
Tasty Tuesday
Tuesdays at the Table
Full Plate Thursday
Recipe Box
Tastetastic Thursday