Nothing is better on a Sunday morning than a nice big breakfast. Usually it's pancakes or waffles and since we had a ton of fresh blueberries, the kids asked for blueberry waffles. I remembered seeing a recipe that claimed to the the best blueberry waffles on
Fatty Sumo
, so I decided to give them a try. I really like that these waffles use half whole wheat flour. Makes them a bit healthier and you can't even tell it's in there.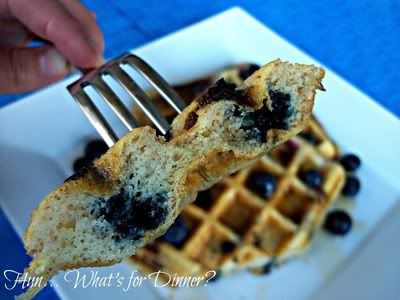 These waffles are really good. They brown up nicely, are big and the buttermilk makes them super fluffy and crispy on the outside. We loved the sweet blueberries, studded through them and how they added sweetness, without making the waffles too sweet. Topped with additional fresh berries and a drizzle of maple syrup from Quebec, these waffles are an amazing breakfast. The kids gobbled them up and Mr.B wanted a third waffle. Unfortunately we all loved these so much, we ate the whole batch in no time.
Best Blueberry Buttermilk Waffles
Fatty Sumo
- adapted from
Epicurious.com (Gourmet | June 2005
)
1 cup all-purpose flour
1 cup whole wheat flour
2 tbsp sugar
2 tsp baking soda
3/4 tsp salt
2 cups well-shaken buttermilk
1/2 stick (4 tbsp) unsalted butter, melted and cooled to room temperature
2 tbsp canola oil
2 large eggs
1 cup blueberries
oil spray for waffle iron
Whisk together flour, sugar, baking soda, and salt in a large bowl. Whisk together buttermilk, melted butter, and eggs in another bowl, then whisk into flour mixture until just combined. Add blueberries to mixture and combine. Spray hot waffle iron lightly with oil and pour a slightly rounded 1/2 cup of batter into each waffle mold (see cooks' note, below). Cook waffles according to manufacturer's instructions until golden and cooked through, about 3 minutes. Top with fresh blueberries and maple syrup.
This post linked to
Foodie Friends Friday
Foodie Friday
Weekend Potluck
Sweets for a Saturday
Friday Favorites
Church Supper