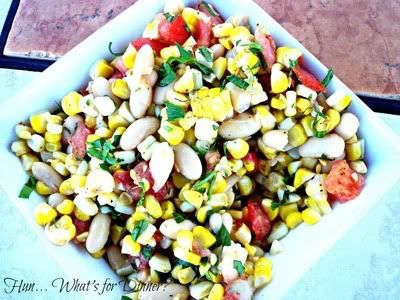 Boy is it hot out! Even though we do have air in the house, I don't really like to heat up the house more than I need to. So, during the summer, I love to serve salads with our dinners. I'm always looking for something to serve, when we have Mexican inspired main dishes and since I had some cobs of corn leftover, I decided to turn them into a salad. I lightly grilled them, until the kernels turned a nice golden brown and caramelized. Then I removed the kernels from the cob, tossed them with beans and tomatoes and made a wonderful dressing, full of Tex Mex flavour.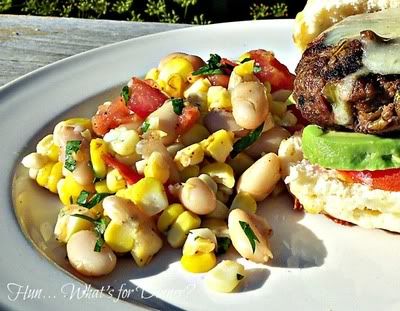 This salad was amazing. I loved the sweet corn, paired with the fresh tomato and creamy beans. The tangy, sweet and savory dressing, made all the flavours shine and didn't overwhelm them. The kids thought it was silly that I turned corn into a salad, which they absolutely loved. Make sure to make this salad a bit in advance, so the flavours of the dressing have a chance to mingle with everything and soak in, leaving you with the best possible flavour.
Grilled Corn Salad
printable version
4 ears of cooked corn on the cob
1 can pinto beans, drained and rinsed
2 vine ripe tomatoes, seeded and chopped
1/4 C cilantro, chopped
juice of 1 lime
1/2 tsp lime zest
1/4 C olive oil
1 tsp honey
1/4 tsp cumin
1/2 tsp chili powder
salt and pepper
Preheat your grill, to medium high heat. Grill corn, turning occasionally, until kernels begin to turn golden and caramelize. Cool slightly. Using a sharp knife, remove kernels from cobs, by standing the cob on it's flat end and carefully running the blade of the knife down the cob from the top. Discard cobs and place kernels in a bowl.
Add beans, tomatoes and cilantro to the bowl, with the corn. In a resealable jar, combine the lime juice and zest, olive oil, honey, cumin, chili powder, salt and pepper. Seal and shake vigorously, until everything is well combined. Pour over corn mixture and gently toss until everything is coated with the dressing. Refrigerate at least 1 hr (more if possible).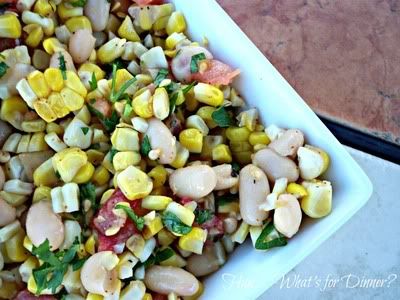 This post linked to